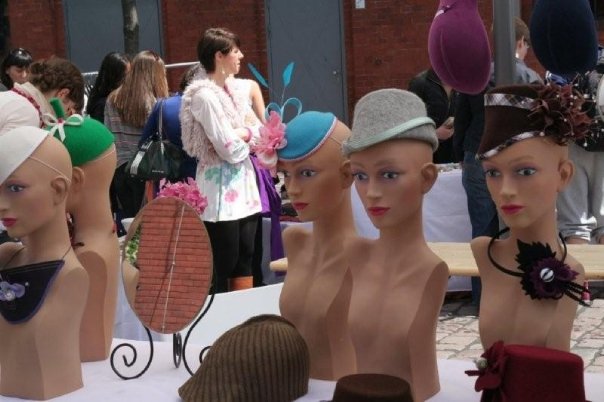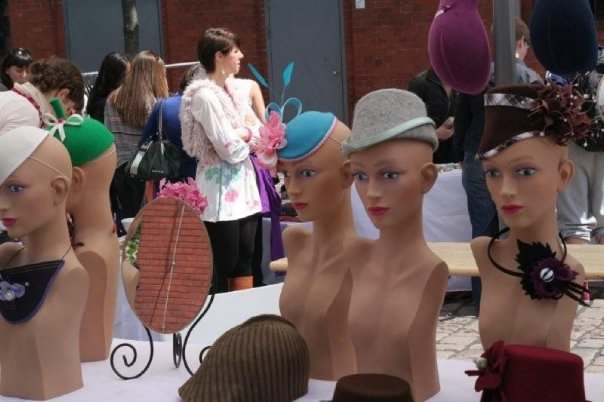 Berlin cannot be compared with London, New York, Milan or Paris in terms of fashion. Indeed, it is the city's fascinating  history that has helped to shape Germany's unique style. The fall of the Berlin wall 20 years ago has since meant that two separate societies have collided to create a fresh cultural identity and since then, fashion in the capital has come into its own. While vintage stores and flea markets are a key part of the Berliner shopping experience, new designer boutiques can be found dotted around the city, and since 2007 Germany's best have shown at their very own Berlin Fashion Week.

Having recently spent some time in Berlin, I had the chance to experience the city's style offerings and was struck by a new development exclusive to the area. The White Market is a new fashion event based in the diverse shopping area of Prenzlauer Berg. Locals and tourists alike visit the chic, outdoor market for a taste of original Berlin craftmanship displayed under a parade of white umbrellas at KulturBrauerei, the city's cultural hub.
Having hosted only five events of its kind so far, organiser Karen Nieto speaks to us about this unique project and the exciting prospects for The White Market.
When did you first come up with the idea of The White Market?
The idea for The White Market was conceived in 2008, during one of those shopping ruts everyone gets into sometimes.
Berlin is a creative city, bustling with talented designers but shopping can be inconvenient and uninspiring sometimes. Sicne moving here two years ago, we've been flying every season to New York or Paris to get our fashion fix. In these cities, shopping is more than just a means to an end, it's an experience. We recognized Berlin already had all the elements: talented designers, good quality craftmanship and endless sources of inspiration. All we had to do was connect these elements.
Our concept was simple: bring the best designers under one roof (or umbrella in our case) and present their collections in a pretty white package – and voila, The White Market shopping experience was born.
How did you settle on the name The White Market?
We chose the name because that's how we visualised the shopping experience from the beginning – outdoor shopping under rows of white canopies. Plus, the name suits the philosophy of the market: all products are unique and hand-made; the exact opposite of what you might find at a black market.
How do you select the designers that exhibit at The White Market?
Each designer must submit images of their collections and we review them based on the following criteria: original design, craftsmanship and small production runs. We show approximately 40 designers per market and we make sure there is an equal number of clothing and accessory stands. Many of the designers at The White Market received fashion degrees from the Academy or similar experience and credentials.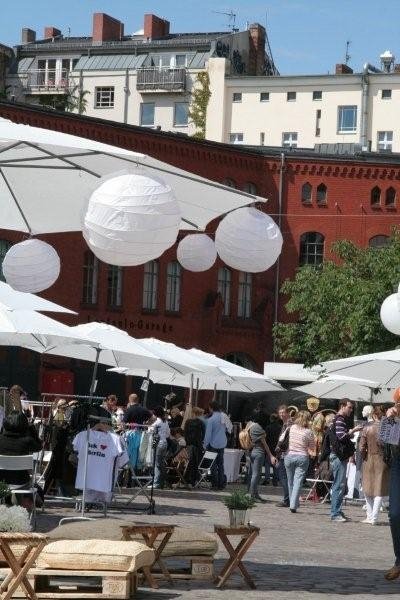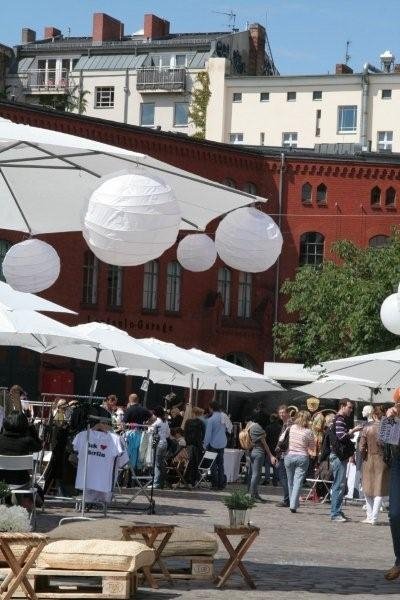 How does a designer benefit from showing at The White Market?
The White Market puts huge effort on generating press for the designers. We invite magazines, newspapers and radio stations to every single market date. All their collections are showcased on our website along with designer e-shop links. We also have a blog on Facebook where they can upload their content.
We do a lot of flyering and have also designed white duck tape 'marketing mannequins' that we hang up in the area with market information written on them.
Lastly, stylish presentation plays a huge role when it comes to fashion. Most of our designers sell more at The White Market then they do at Mauerpark (one of Berlin's biggest and best flea markets), despite the fact that we probably get 10% of their total number of visitors. As we present clothing and accessories exclusively, we attract fashion-focussed cutomers – very valuable to the designers because they don't get lost amongst a sea of second-hand clutter found at other markets.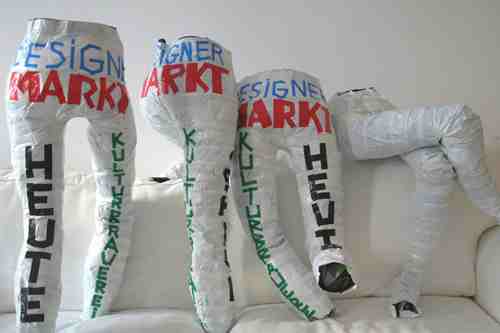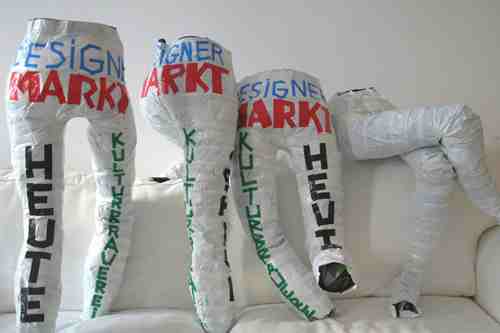 What items can we find on sale at The White Market?
The White Market only exhibits handmade items from independent designers with non mass-produced collections. The price range is very broad starting at ten euros going up to 200 euros.
Describe your typical The White Market Custoimer.
The White Market attracts people from all walks of  life who have one thing in common: an eye for fashion. Tourists come in droves and Berlin locals are equally excited by the prospect of a new shopping experience to discover.
Are you a designer yourself and if so, do you exhibit at The White Market?
Yes, I'm an architect and clothing designer. I'm launching a line of jewellery to sell at The White Market – I just need to find time to make it!
What do you think sets Berlin apart from the world in terms of fashion and style?
Berlin's unique history plays an integral role in local fashion. Berliners take the term 'eighties/nineties throwback' to a new extreme that stretches into each fibre of its aesthetic culture from furniture and architecture to clothing. Berlin's endless array of second hand shops and various flea markets cater to ones every nostalgic whim. The White Market has been embraced because although it presents new things, it encourages home-grown individuality and creativity: integral facets of Berlin fashion.
Where do you see The White Market five years from now?
As a destination for trend forecasters and shopaholics alike – a Berlin fashion establishment. We have already received international interest in The White Market which would be the next, natural step for us to take for the market to grow organically. In addition, the possibility of a White Market label is on the cards. The label would present collections of selected market designers. The designers would change along with the seasons and The White Market label would serve – like the market – as a spring-board into the global world of fashion.
Check out the website, Facebook group or Twitter page for information on the latest showcasing designers and details of the next market.