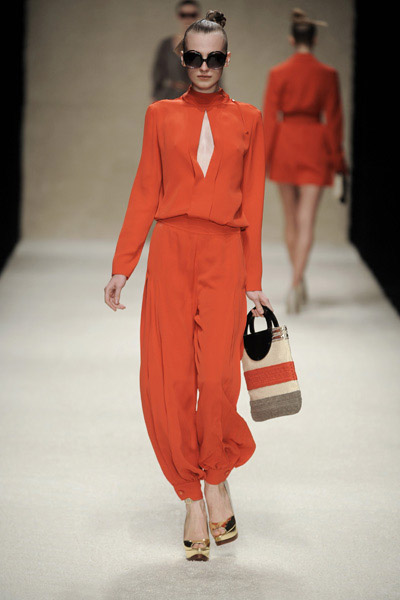 This show had a very starry front row. Not only was Peaches Geldof, Jade Parfitt, Erin O'Connor and Tamsin Egerton there but David Walliams also put in an appearance. However it wasn't any of these who caused the catwalk to fall into mass excitement, but instead it was the presence of fashion royalty. Yes Anna Wintour was there looking as polished as ever.
But back to the clothes. This was a very seventies inspired collection, and was both wearable and stylish. The colour scheme was fabulous, I adored the postbox red and the mushroom shades, it was a collection very much for the city slicker.
There were some great pieces, the playsuits were real winners and the pleated chiffon trousers were stunning. The harems felt a little out of place, I feel that we've moved on from this trouser shape.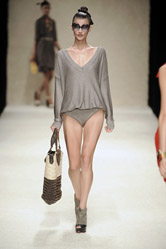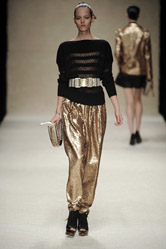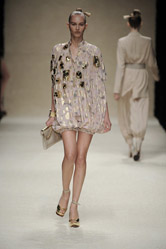 There was a glammed up utility feel with sequins featuring heavily, alongside metallic fabrics and bold monochrome. Culotte style shorts were paired with billowing blouses, long line blazers added a new dimension to the wardrobe staple and the knitted body which shouldn't work really did.
Some great key pieces could be found here, and the pictures don't really do the collection justice. For this collection is about quality both in terms of textures and fabrics. The handbags are sure to be gracing the arms of the A list.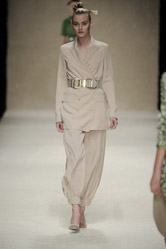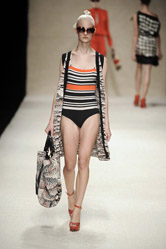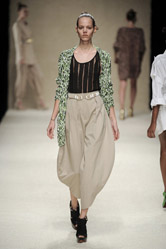 Jaeger London does do some beautiful pieces, and some are very stylish and at times quirky pieces. It's one of those collections that there's something for everyone. So next Spring Summer will you be skipping a seventies inspired step?