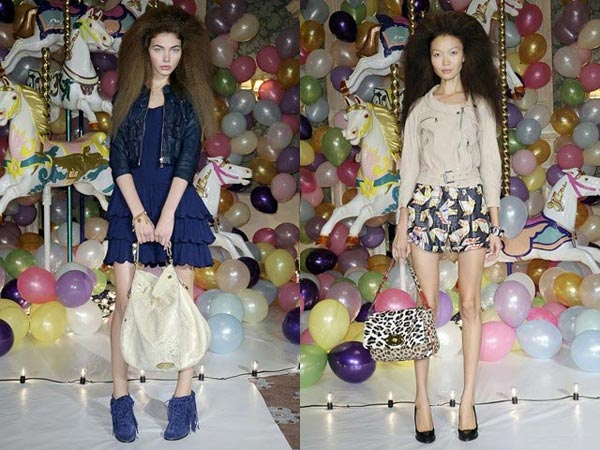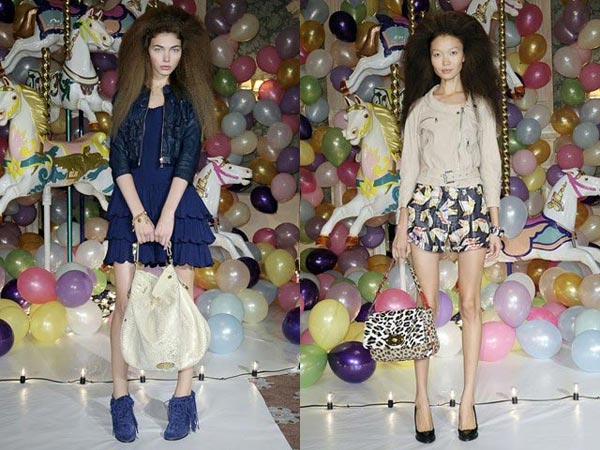 Mulberry put on a special show for their S/S10 collection, which was held in the grand Claridges. Inspired by Sofia Coppola's 'Virgin Suicides' and Tim Walker's photography, Mulberry gave us a "dreamy take on schoolgirl crushes and fairground iconography, sharpened with teen angst. That's a statement and a half, but they sure lived up to it.
Set up like a fairground dream, the space was decorated with pearlised candy-coloured balloons and carousel horses to really set the tone of the show , and we knew we were in for a treat. How refreshing to see a presentation so dedicated to the season it reflected.
For S/S10, the most delicious colours mix with contrast prints and key accessories to create a season that's sweet but full of attitude. Colour is key for Mulberry this season, mixing candy pinks and sweet shades with neutral nudes and vivid sun-bleached brights.
Their ready-to-wear collection plays with a soft, feminine palette contrasted against awkward oversized details, bold silhouettes and statement dream-like prints in four key patterns. Denim bikers, exposed zip details and studding featured alongside 'Betty bows' and ruffles to add ,edge to the super-sweet collection, whilst relaxed tailoring teamed with summer dresses added a tom-boy edge. Key pieces included the puff sleeve dress in classic black waffle silk and seasonal Crazy Horse Head print, and the drop-waisted gathered skirt in playful prints.
Shoes for the season came in four families: the moccasin, the cookie, the charm and Betty bow sandals. From neon flats with whimsical charms to ankle tie sandals and lace up cone heeled moccasins with fringe detailing surrounding the heel , Mulberry confirmed their diversity, achieving relaxed, grown-up chic as well as cute and girly.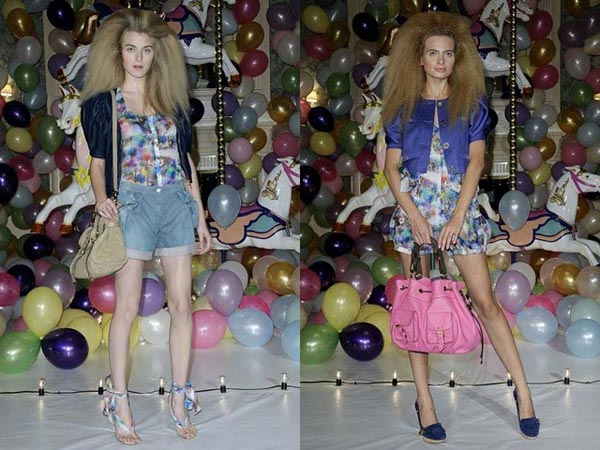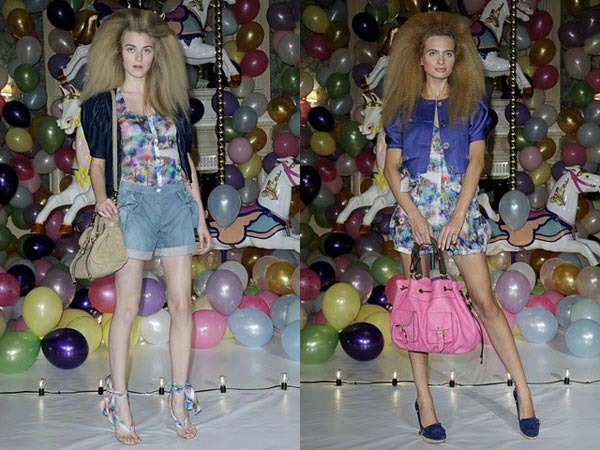 The bags (oh, the bags!) were, of course, the accessories everyone was waiting to see Mulberry's cult handbags were back with a bang in four new families for S/S10: Alexa, inspired by Ms. Chung herself, Hayden, Leah, Tamara, Drew and Beatrice. Bold bright colours, hand-held totes, jewel encrusted clutches, tan leather-fringed satchels , Mulberry's classic designs were given new season touches and were an array of shapes, styles, prints and colours which certainly won't leave the fashion elite short of arm candy next season.
It was a fun, fantastical presentation from this impeccable designer. This playful collection which was expertly finished with the classic Mulberry touch was a breath of fresh air, and fans of Mulberry certainly won't be disappointed.