Last Updated on 25th September 2009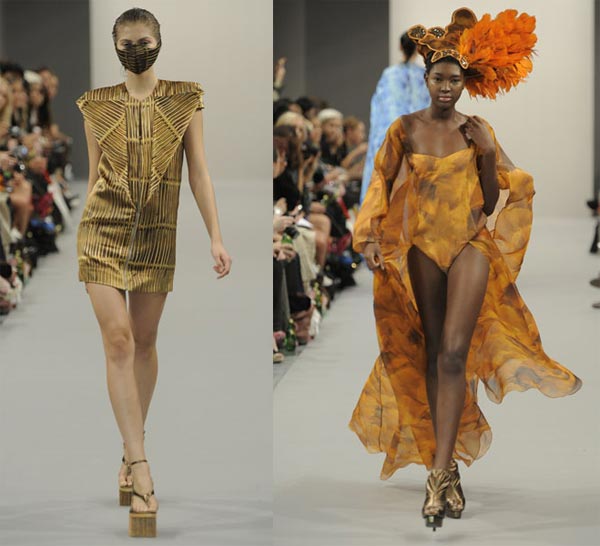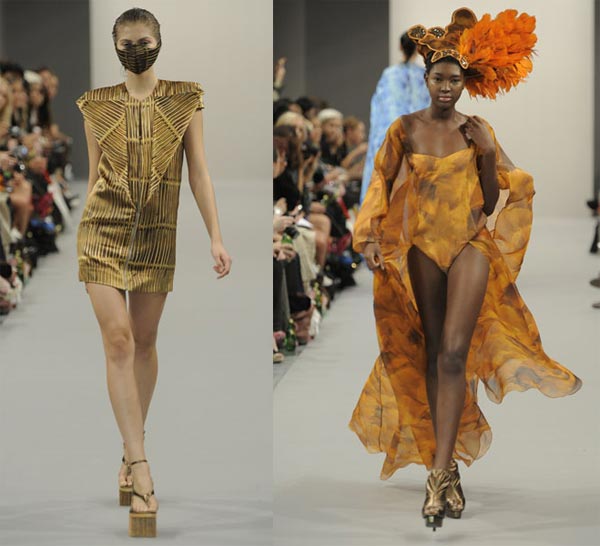 The Spring 2010 collection from Malaysian born Bernard Chandran was certainly a mixed bag. Fluid lines in soft, sheer fabrics made their way down the runway alongside familiarly structured pieces, identifying the broad spectrum of influences behind Chandran's designs.
In a backstage chat with MFL, the designer revealed that he gathers inspiration wherever he travels and likes to inject his own feminine glamour into traditional designs. Indeed, there was a definite nod to Chandran's South East Asian origins with the adapted conical hat, block-heeled shoes, and simple bamboo print that kicked-off the impressive show. 
It appears that Chandran's inspiration however, does not just lie in these exotic locations which have undoubtedly led to some of the most outlandish designs within his Spring 2010 collection. While the opulent yet slightly menacing  masks, which accentuate Chandran's love of the human form together with constructed outer corsets, are immediate products of Chandran's travel; the muted tones and symmetrical shapes of some of the mini dresses are inspired simply by his constant surroundings in the designer workshop.
Chandran admitted that picking a favourite piece from any collection is always very difficult: 'I don't say 'I like this' [because] they are all my child.' the designer revealed. With little hesitation however, he proceeded to suggest that a lot of attention went into the design of his beautifully billowing, electric blue creations. Gliding across the catwalk in floral printed chiffon (a new technique introduced this season), these pieces seemed to verge away from the Chandran style that we have grown accustomed to over the past few seasons – something which made these dresses stand out with their floaty, feminine drapery.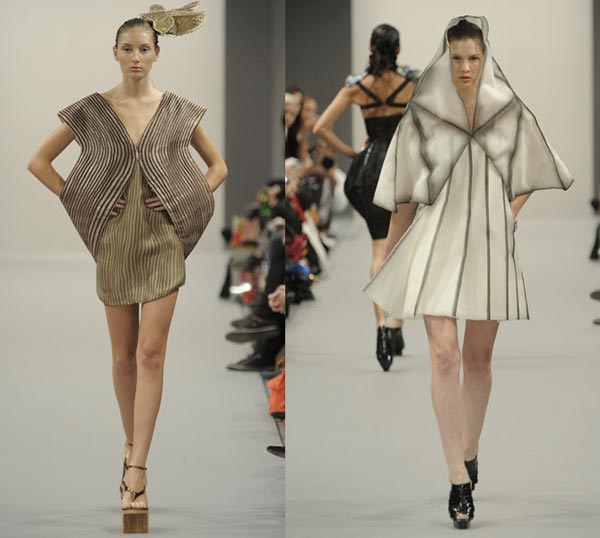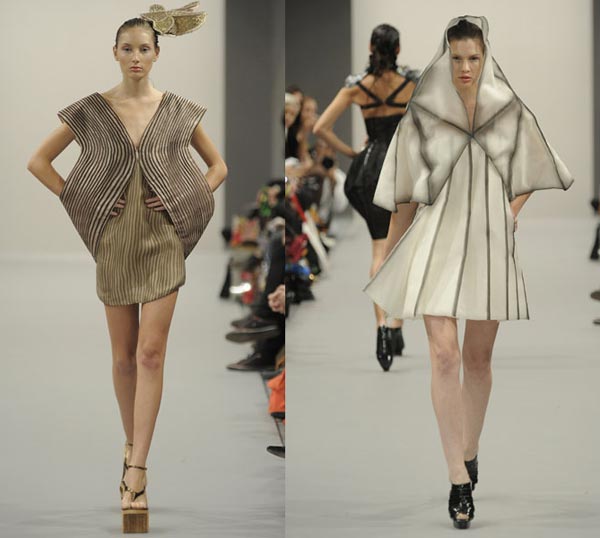 Other prominent pieces included the fish headwear – which induced a burst of mid-show applause – and the sculpted, orange body suit sprouting the feathers that featured previously, in embroidered, angular dresses. Despite these unconventional choices, much of the show featured simple and wearable designs in black and dove grey, characterised by a range of flattering shapes from body-con to shift.
In an attempt to further explain the origins of his collection, Chandran  summarised: 'I do my best. It's difficult. It's about me, the collection. It is for me, very personal.' So there we have it. The running theme in the Bernard Chandran Spring 2010 collection is simply, Bernard Chandran. Nothing else could better explain this eclectic catwalk, held together by the designer's experiences and love of the female form.
Adding further evidence to support this last statement was Chandran's reaction when asked who he would really love to dress: 'Women who like to try something new!'