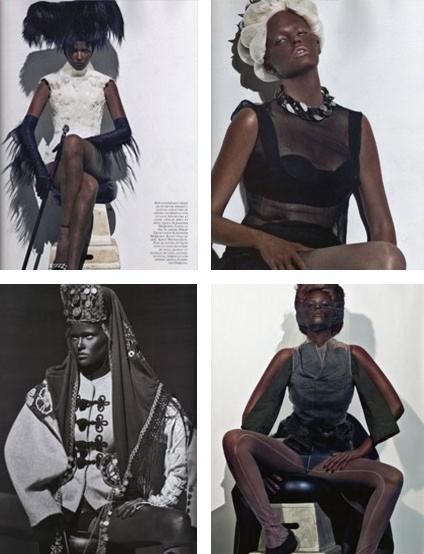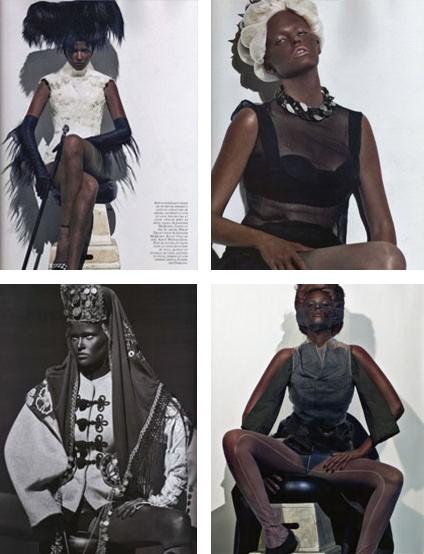 Ooh la la. French Vogue has sparked huge controversy after painting a white model black for its October issue.
In the shoot styled by editor-in-chief Carine Roitfeld , who has been tipped to fill Anna Wintour's shoes at US Vogue , Dutch model Lara Stone is seen posing as her face, arms and legs are painted in dark make-up.
But as the pictures surfaced on the internet, they've been met with a less than lukewarm response. Roitfeld has been criticised for her decision to paint the pale model's skin darker, with one commentator saying, "If you want to have the look of a black model, then hire one, don't paint one, the Timesonline reported.
Our sentiments exactly. Lara Stone also got our tongues wagging recently when she revealed she was fed up of being fat. It seems the leggy model isn't impartial to a bit of controversy, hey?
Shot by American photographer Steven Klein, the pictures make up part of the magazine's model issue, where icons including cover star Kate Moss, Yasmin Le Bon and Eva Longoria also feature as the publication pays homage to famous models of the past 20 years.
We're normally fans of French Vogue's forward-thinking features, but we're really not sure what they were trying to achieve with this one.