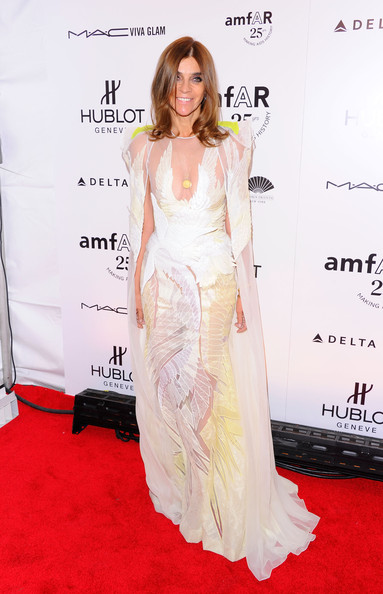 After being asked to step down from her editor-in-chief position at Vogue Paris late last year, we've all wondered where Carine Roitfeld will end up next. But although the well-heeled fashionista is still giving nothing away, she does drop a hint that a new project is coming.
Whilst attending the amfAR annual gala on Wednesday night, the former French Vogue editor was certainly dressed to impress in a white floor length Givenchy Couture gown, and revealed to New York Magazine that she was "too superstitious" to offer any more details on the job front.
"I have a new project – in fashion, of course," says Roitfeld, promising to reveal more "in one month."
Covering her tracks for why she attended the event, Roitfeld still left us with a lingering clue of where her new-found business venture may lie.
"I'm just coming here for this event because I'm working with amfAR and it's very important for me to be here tonight," she says. "Tomorrow my son has an art show. And I have a book that was very late to finish with Rizzoli."
So now you know. Leaving little to the imagination, Roitfeld is certainly playing her fashionable cards very close to her heart.