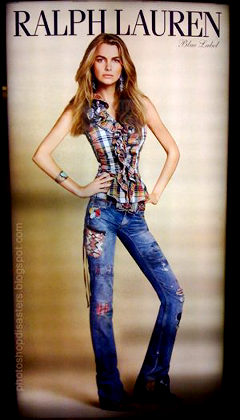 Filippa Hamilton, the model who's image was digitally retouched in a Polo Ralph Lauren campaign, has been dropped by the label for being too fat, she says.
The UK size 8 model , who is 8½ stone , said yesterday that her contract with the luxury label had been cut after six years because she was too heavy.
"They fired me because they said I was overweight and couldn't fit in their clothes any more, the Timesonline reported her saying.
The news follows a controversial week for the fashion house, after they digitally retouched an image of Filippa in their Japanese campaign to make her seem slimmer , so much so that the model's waist appeared smaller than her head.
"I was shocked to see that super-skinny girl with my face, said the 23-year-old. "It's very sad, I think, that Ralph Lauren could do something like that.
Polo Ralph Lauren did apologise for the use of the image, saying it was released by mistake in Japan and wasn't the same as the approved image shown in the US. The company dispute the model's claim, however, that her weight , or the controversy , has anything to do with ending of the relationship, stating the decision comes "as a result of her inability to meet the obligations under her contract.
We'd hate to think what would have happened had this been in France; French officials are currently battling to put warnings on all digitally enhanced images.
We reckon Ralph Lauren may have lost itself a few fans.