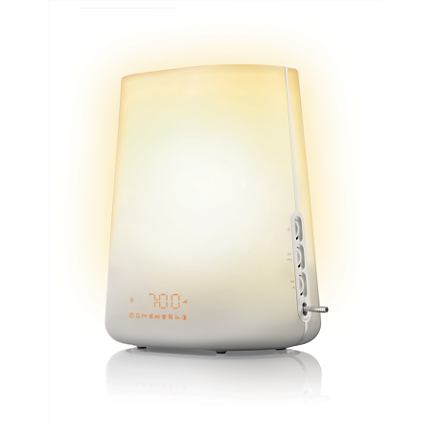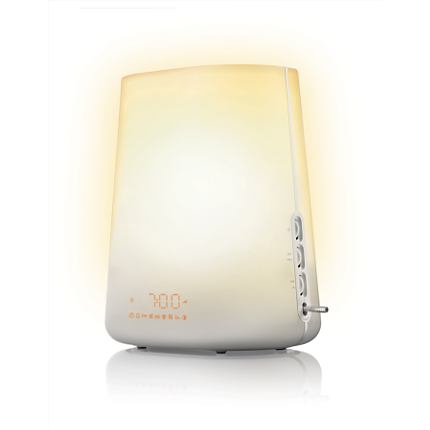 It's never an easy job getting up in the morning, especially in these dark, colder months. I for one, am not a morning person and seem to find it increasingly difficult to rise from my warm, cosy bed each day. In fact, I am quite possibly the definitive snoozer, constantly waking up in a panic when I realise I have pressed the snooze button one too many times in my sleep. All I can say is thank goodness for the people at Philips, because it was definitely time for me to get a new alarm clock.
As you can imagine, I was more than happy to test out the Philips Wake-up Light which promises to wake you up naturally, using an energy saving light that gradually increases in brightness. Teamed with a range of soothing sounds and a digital FM radio, the Wake-up Light aims to make getting out of bed easier, preparing the body to wake up while you're still asleep, before the alarm sounds.
The lamp – which is clinically proven to restore and retain energy, fight those winter blues and combat jet lag – switches itself on 30 minutes before your alarm is set to go off. The light then slowly increases to your desired intensity, as if the sun is rising in your bedroom. Once the lamp has reached its maximum beam, the alarm will sound, waking you up from a lighter sleep.
Technically, I can't pretend to know how this works. But the thing is, it does. Having tested the Wake-up light for over a week, I have found getting out of bed much easier and haven't experienced those morning blues when I go to switch off my alarm of Radio 1. And another thing: I think I've only pressed snooze once so far.
The nice thing about this alarm clock is the choice of natural sounds to wake up to. The relaxing tones of singing birds, wind chimes and even jungle noises are all there for a more pleasant rise, if breakfast radio is not your thing.
The clock works as a decent radio and it is easy to tune in to your favourite station with the flexible antenna. That said, you can't listen to any AM stations and there is only room for one preset, so it can end up being a bit of a hassle if you want to switch between different shows.
As a bedside lamp, the Wake-up Light is fairly decent and on its highest setting is rather bright however I would refrain from using the product constantly in this way, due to the light's life expectancy. Philips suggest that depending on the use of the appliance, the lamp should last seven years but less in case of heavy use. Furthermore, the lamp is not replaceable, meaning that customers need to contact Philips directly to fix a problem.
All in all, I am one happy customer. Having followed the instructions on how to gain the optimum benefits of the Philips Wake-up light, the mornings have been that little bit easier to face. No, it's the prettiest appliance in the world but it's a start and I'm sure that we'll be seeing a lot more of these alarms in the future. £65.25 available at Amazon.co.uk.