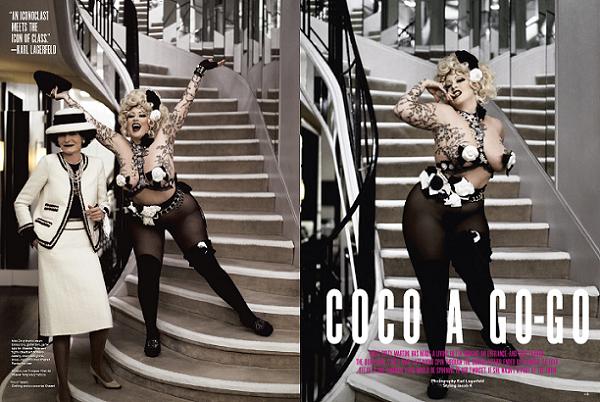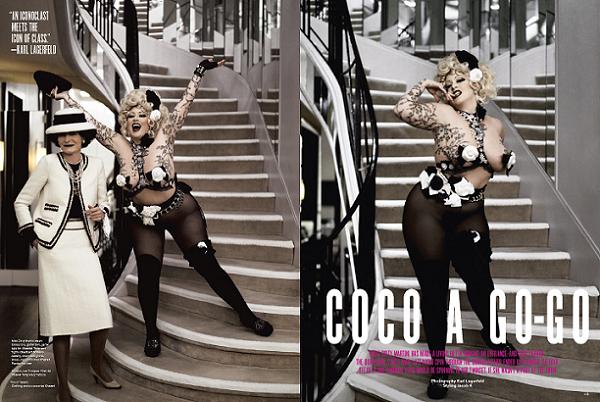 Last week we showed you snaps from V magazine's 'Size Issue' featuring big beauties baring all, and here's a few more we're adding to the plus-size pot, this time taken by fashion's father, Karl Lagerfeld.
As if you didn't know it already, designing isn't enough for the Chanel creative director; he's tried his haute hand at snapping supers enough times now to be considered an occasional fashion photographer, and this, his latest project, features buxom burlesque dancer Miss Dirty Martini.
Now, pardon us for pointing this out, but we're a little confused. Wasn't it only a few months ago that Karl made that 'fat mummies' comment? In fact, we think his exact words were "no one wants to see round women. That humble pie's a-cooking, and the burlesque star is making him eat every last mouthful.
Posing in pasties, cut-out bras, garter belts, stockings and, of course, Chanel and Lagerfeld accessories, Miss Dirty Martini makes herself right at home in Coco's Rue Cambon apartment.
Speaking of her invitation to pose for V, Miss Dirty Martini said, "Posing on the Double C's, modelling like my life depended on it, I thought, 'Why not? Why can't designers make fashion that mimics the architecture of hips and busts and then choose models that wear it perfectly?'
We'll leave that one to Karl, shall we?
See the full shoot in V magazine's 'Size Issue', out on January 14th.