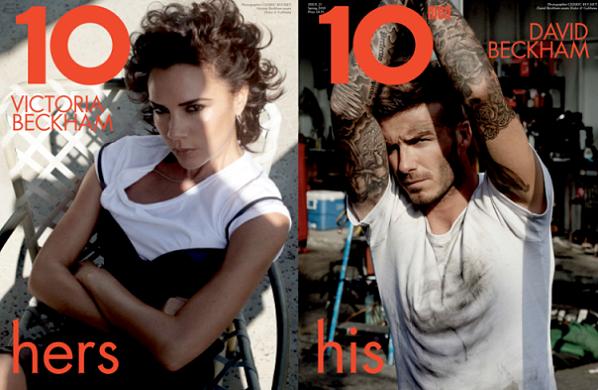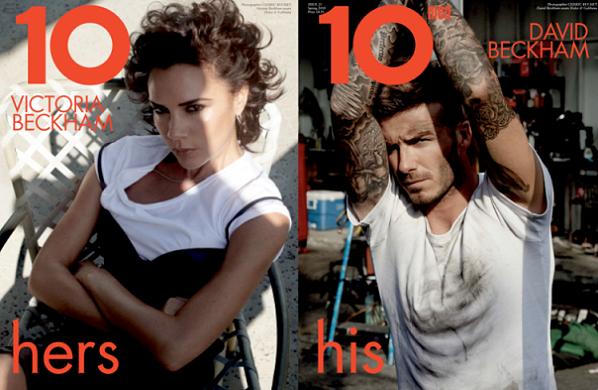 Individually, they're at the top of their game; together, they're a formidable force to be reckoned with. And that force can currently be felt flying through fashion as David and Victoria Beckham come together for a his and hers cover shoot for 10 magazine.
With 10 celebrating its 10th anniversary, editor-in-chief Sophia Neophitou-Apostolou needed to mark the memorable occasion with an extra special shoot. And boy did she come up trumps.
"For me, David and Victoria are an intriguing power entity with a truly renaissance attitude. They are multi-faceted and incredibly clever in the approach to their celebrity status, defying the transient nature of that celebrity to create true longevity as a brand and a force to be reckoned with."
Er, yeah, what she said.
In the issue, Victoria talks about building her already-bursting empire into a fully-fledged fashion house. "I still plan to be doing this in 10, 15, 20 years time, so it's got to be done right," she says. And apparently she'll be doing it all in flats, if Marc Jacobs has his way. Surprising still, is that VB is the same dress size as Jennifer Lopez. "My dresses are for women of all different shapes and sizes. Actually, the one I tried on yesterday was the one Jennifer wore. And who'd have thought I'd be the same size as Jennifer Lopez!" No one. And we still don't.
David, meanwhile, talks about those ad campaigns for Emporio Armani Underwear: "I still feel quite shy when I see a poster or campaign like that. It was a daunting experience stripping off in front of a room of people but after a while you get used to it – although my mum still hasn't. Oh, trust us, we've got used to it, too.
Not since their last steamy ad together have we been so excited about the Beckham's. Be still our beating hearts.