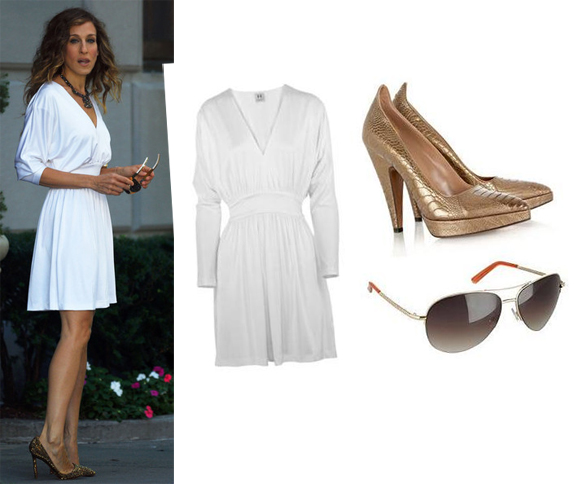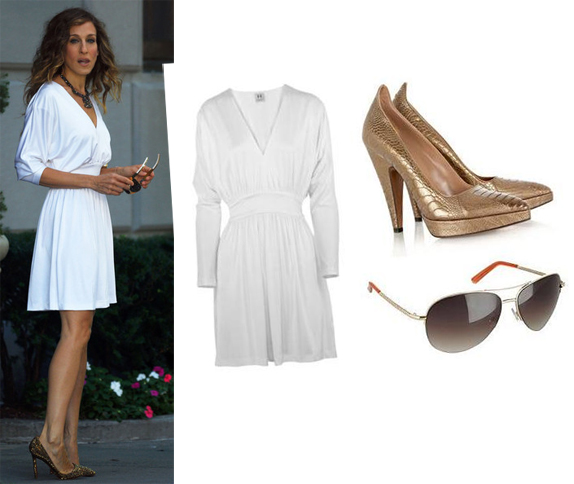 Calm yourselves ladies, it's almost time. Tomorrow we'll finally get to see what we've waited just about two years for when our four favourite girls grace the big screen once again in Sex and the City 2. So it's high time, we think, that we did a SATC-related piece, and for all you fashion fans out there who are keen to copy the looks of our re-discovered style queens, this is your lucky day – we'll be showing you how to recreate a key look for each of the girls from the new film. So without further ado, let's get the ball rolling with the leader of the pack: Carrie.
You're a Carrie if: you're super stylish, endlessly eclectic and forever fearless when it comes to fashion.
We've picked an already-iconic look from the new movie to inspire our Carrie outfit – yep, you guessed it, it's that Halston Heritage dress, and luckily for you, we've sourced the exact piece from Net-a-Porter.com for £216. Team with these metallic gold snakeskin-effect skyscrapers by Alaia (available from theOutnet.com, £411) and a pair of gold-coloured aviators from Butterfly by Matthew Williamson (available at Debenhams, £25), and you're ready to give Ms. Bradshaw a run for her money.
Click here to get Charlotte's look.
Click here to get Samantha's look.
Click here to get Miranda's look.