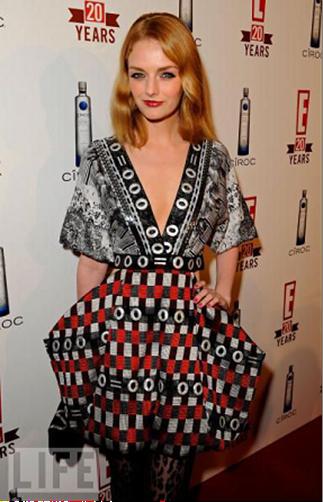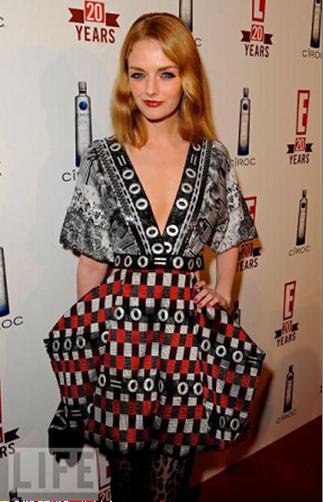 May is a happy month for most of us – it brings our first glimpse of summer, warmer weather and sun-related smiles all round – but for Nigerian designer Deola Sagoe, it also brings with it a Marie Claire cover and another red carpet slot for one of her latest designs.
Lydia Hearst, the doll-faced American supermodel, joined the likes of Naomi Campbell and Alek Wek on Monday when she wore a Deola Sagoe design to E!'s 20th Anniversary party last week – a gorgeous monochrome-and-red mix dress crafted from the designer's trademark traditional African fabric Aso-Oke.
And if Deola Sagoe isn't a name you're familiar with just yet, it's time to make a mental note because we're pretty sure you'll be hearing it a lot more in months to come. She is, after all, quickly becoming Africa's most buzzed about designer.
Her exploration of Nigerian nostalgia and high fashion offers a refreshingly dynamic line that's both cultural and creative in its influences – there's hand-woven fabrics, vibrant colours, prints and patterns, beading and crystals and lashings of gold – and it's a line that's served her well.
After catching the eye of US Vogue editor Andre Leon Talley when she won the 'African Designs' and MNET/Anglo Gold African Designs in 2000 – just two years after she began designing – Deola has since gone on to win the Platinum Quality Award at 2006's 10th International Star Awards in Paris, show her collections on the international runways, and earn a cult following among fashion's elite with her haute couture and ready-to-wear lines (it's not just the supers, we hear Oprah Winfrey and Rachel Roy are fans, too).
We love Lydia's dress, and we reckon we'll spy many more celebs in Ms. Sagoe's designs when they join the rails at NYC's coolest boutique, Elizabeth Charles, come August.