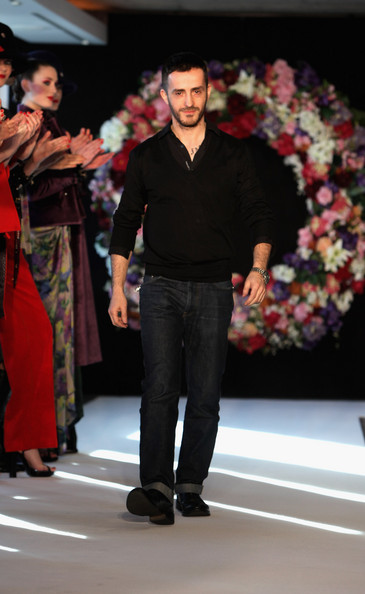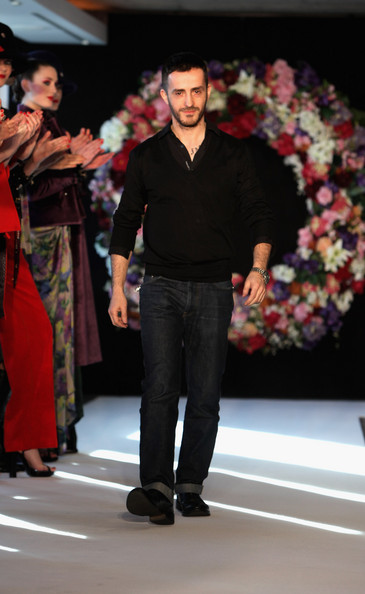 Before launching his own label in 2005, Italian born designer Kinder Aggugini, had built a sparkling career as the silent talent behind look after look from a number of big hitters including John Galliano, Vivienne Westwood, Versace and Calvin Klein.
He's described his signature style as 'Coco Chanel marries Sid Vicious' and on reflection that seemingly odd match does make sense. Aggugini, with his bold splashes of colour, has the showmanship and swagger of the latter, but underneath are clothes that most women would love to wear – beautifully cut, versatile and unashamedly expensive.
It's a unique style that has won him plenty of fans. His debut at London fashion week last year garnered rave reviews from respected critics including Hilary Alexander who described his clothes as "magical".
His last collection was inspired by one of most intriguing and controversial women of Napoleonic Paris – Madame Recamier – combining gorgeous empire line silhouettes with a punk mentality.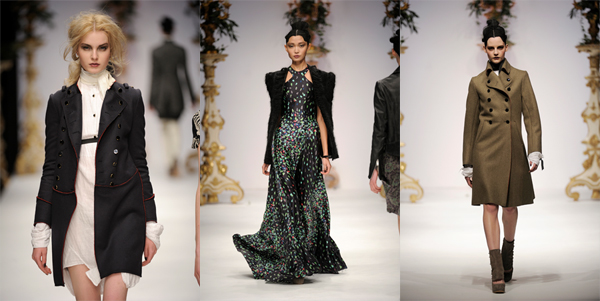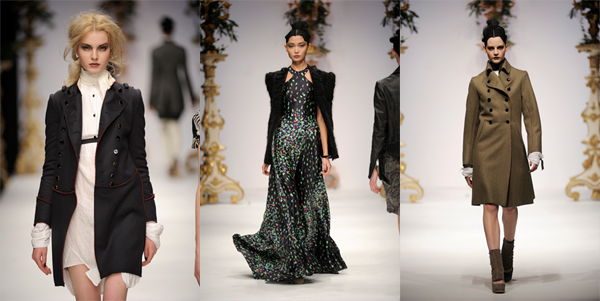 In just three seasons, Aggugini has become one of the hottest names on the London Fashion Week roster and he has the busy schedule to match. But he found a few minutes to answer our questions…
When did you first realise you wanted to be a designer?
My mum taught me how to sew at eight and I started tapering my schoolmate's jeans, which in turn got me a great place in the football team. I knew than that making clothes produced excellent results. 
What is it about fashion that keeps you coming back? 
The thrill of the new and the amazing feeling of creating something that moves people.
What is the best and worst thing about working in fashion?
The hours.
What have been the highs and lows of your career thus far?
Seeing the line up just before the show begins. Not being able to pay back my Mum for the favour she did to me at eight. She passed away before I began my own collection. 
You've been a creative force behind so many amazing labels, all with powerful leading designers with strong personalities and aesthetics – who was your favourite to work with and why? 
You've got to be joking! I'm wise enough to know not to answer this question.
 
It took you almost two decades to launch your own collection – what made you decide to take the plunge and start your own label?
Creative impulse.
Were you nervous?
Not until Rei Kawakubo said she wanted to see the collection. It was like when they tell you the headmaster wants to see you.
How would you sum up your label's aesthetic?
I married two of my favourite people, Sid Vicious and Coco Chanel.
Is it a very different experience doing fashion week with your own label?
Yes, of course. On one hand you have more control over the accuracy of the image you project on the runway, on the other you need to be very clever with the different scale of budget.
Was it a relief to have such a positive reception? 
In truth I never thought all those people would have turned up at 9.30 on a Sunday morning the very first day of fashion week. Respect to y'all that came.
Who is your ideal customer?
One with a penchant for beauty, quality and rock'n'roll.  
What is currently making you most excited in terms of inspiration and which other designers do you think are interesting at the moment?
I love the sound of dubstep and I have a great deal of admiration for Erdem. He rocks.
You've said in the past that even when you were growing up in Milan you only ever wanted to be in London. What is it about London that is so special? 
Everything. It's the best place on earth. The variety of what this city offers is incomparable.
What can we expect to see from you in the next twelve months?
Hopefully something that will give you some emotion.