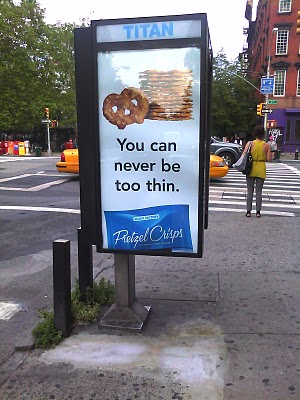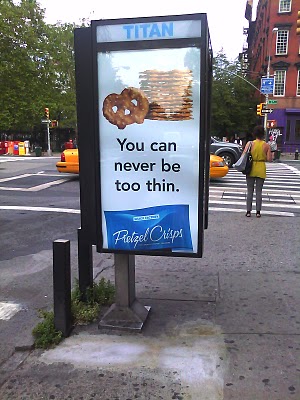 Last time we had a pretzel, it was two inches thick, completely stodgy and covered in salt, but we're clearly not up to speed – Pretzel Crisps, aka the snackers' delight, has been advertising its thin and crispy versions on bus shelters in New York City recently, but its slogan has sparked outrage.
"You can never be too thin" it reads. Well, one quick Google search and we could find you at least one hundred or so people who are – and hundreds of people have taken to telling the crisp company exactly that by defacing its ads with "actually, you can" and other things that are far too naughty to print on here.
Naturally, Pretzel Crisps responded to the national outcry with an apology. "Pretzel Crisps apologizes for any offense the ad caused," Perry Abbenante, Vice President of Marketing at Snack Factory LLC which makes the crisps, told nyctheblog, with the company later tweeting, "We didn't intend to advocate unhealthy weight loss with our ads. Thanks to all for the feedback. The ads will be taken down asap."
That they did. But the replacement ad wasn't a whole lot better. Note: if your ad campaign sparks controversy across your nation and your company is rendered as ignorant, irresponsible and idiotic as a result of said campaign, don't make your next campaign even worse.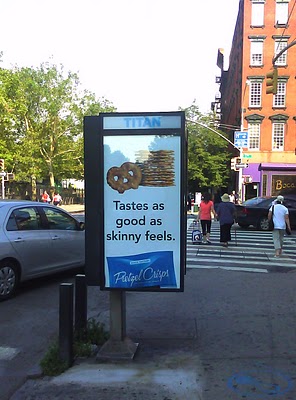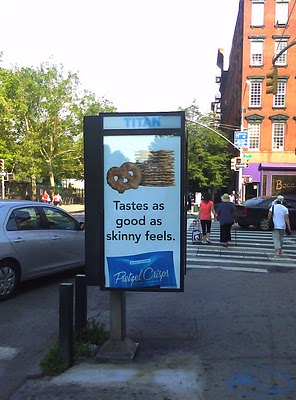 Yep, you read that right. "Tastes as good as skinny feels" – aka Kate Moss gate. If it weren't relating to such a serious issue the stupidity would be hilarious.
[Images]