Last Updated on 27th June 2014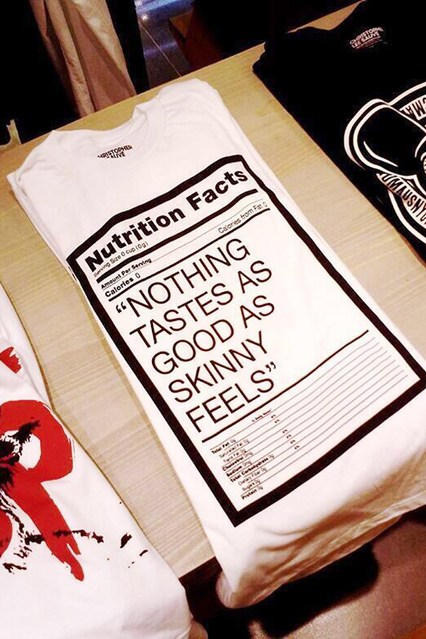 Kate Moss doesn't say much, especially when we compare her to outspoken model pal Naomi Campbell… and we think we know the reason why.
She famously uttered the controversial words "nothing tastes as good as skinny feels" during an interview with WWD back in 2009, which we bet she wishes she didn't; especially now that her words have got some more people in trouble!
Yep, Canadian retailer Hudson's Bay Company has decided to emblazon the quote on a T-shirt – designed by Christopher Lee Sauve – which has consequently landed them in a spot of bother. More than a spot actually, as it's now being pulled from the shelves following a series of complaints.
"We truly value our relationship with our customers and take their concerns seriously and we recognise that many took offence to the item," the company said in a statement. "In this particular instance, while we respect the designer's art, due to the overwhelming response and the sensitivity of the matter, we made the decision to promptly remove the T-shirts from our stores and from thebay.com."
And speaking of the designer, what did Christopher Lee Sauve have to say on the matter?
"Fashion is created to be either celebrated, adored, or hated and deplored, quite like the industry itself. The particular T-shirt in question showcases an infamous quote by supermodel Kate Moss as a nutrition label – most, if not all, of my designs showcase some type of statement pointing out the absurdity of fashion, and this one item is no exception/

"I fully understand and comprehend the severity of an eating disorder and I do not condone celebrating such pain. My sincerest apologies to anyone that I have offended with my designs. I believe wholeheartedly in my work, however, and I can't apologise for that."
Interesting. Do you find the T-shirt and Mossy's words offensive? Do you think it sends out the wrong message? Was the company right to pull the tee? Answers below!