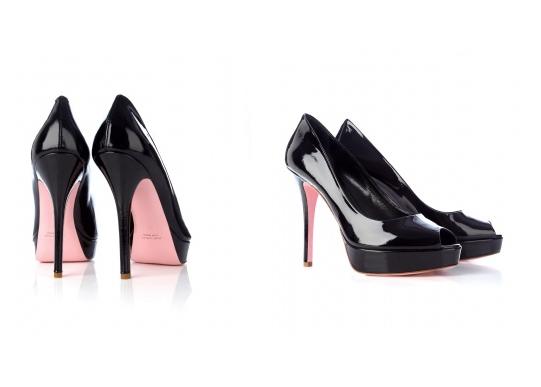 October may mean rain, autumn and more rain still, but it also signals the start of Breast Cancer Awareness Month, and to help raise awareness of the charity initiative, my-wardrobe.com have collaborated on a limited edition shoe especially for the cause.
The online retailer has teamed up with Italian shoe designer Katia Lombardo to create a limited edition shoe, which will see 20% of every sale go directly to Breakthrough Breast Cancer to help with life-saving research and campaigning.
Reworking one of her signature styles, Lombardo's black patent peep-toe platform has been given a chic – and rather apt – update, finishing off the soles with a slick lick of pale pink (Louboutin eat your heart out) exclusively for my-wardrobe.com.
"We are extremely proud to be involved in Breast Cancer Awareness Month for the second year running," says Sarah Curran, my-wardrobe.com's founder and ceo. "Our main aim is to raise awareness and support for such an important cause, whilst simultaneously providing the customer with a wardrobe essential that shows a subtle recognition for the Breakthrough Breast Cancer charity."
The Katia Lombardo shoe for Breakthrough Breast Cancer is available exclusively at my-wardrobe.com for £245 – if you're going to show your support, you may as well show it in style.