Last Updated on 19th January 2011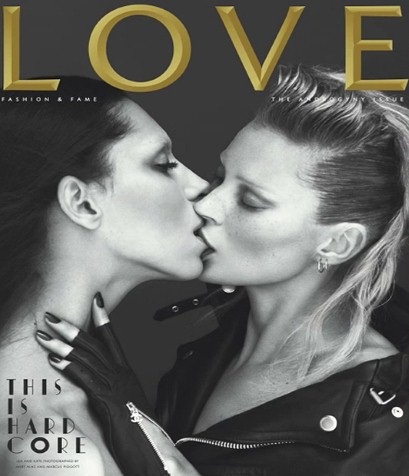 During her 23-year-long career in modelling, Kate Moss has found herself in various precarious situations in the name of fashion, but none, we suspect, quite like smooching a transgender model – but courtesy of LOVE magazine, that's exactly what she's doing… on the cover.
Set to hit shelves in a little under a month, the appropriately titled Androgyny Issue sees transgender model Lea T locking lips with the British super in one of its alternative covers for the new edition in aid of its spring/summer 2011 campaign.
Styled with a faux undercut, wet look hair and minimal make-up, it seems Kate it letting her boyish looks shine through, too, but but none can compare to the transgender genes of Lea T, who makes mixing up the boundaries of boys and girls look so easy.
"I was by the pool at the Copacabana Palace Hotel when I saw her," Katie Grand, who styled the shoot, tells the Telegraph of the first time she laid eyes on the Brazilian model. "At first I didn't notice her gender, just that she was wearing Givenchy couture and looked amazing!"
Shot by Mert Alas and Marcus Piggott, the covershoot makes way for the first of many to androgynous themes to come, inspired by the blog phenomenon Lesbians Who Look Like Justin Bieber – and yes, LOVE is set to follow suit with the Bieb for it's next issue.
After Vanity fair, we can't wait to see it…
The 5th issue of LOVE is out on February 7th.