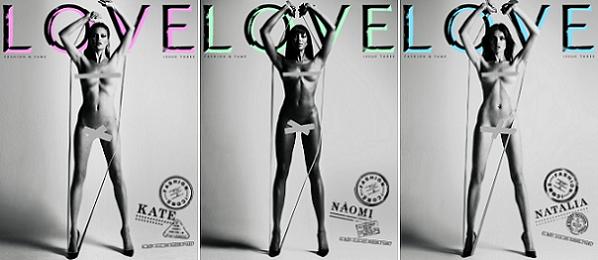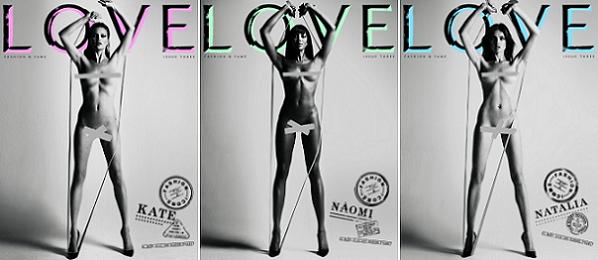 As Love prepares to launch its third bi-annual edition next week, its also readying to reveal the bare truth. Eight different covers will feature fashion icons posing in the nude. Naked. Completely starkers.
Supers including Kate Moss, Naomi Campbell and Natalia Vodianova have stripped down to their skin to star in the magazine's 'Fashion Icons' issue, which sees models who, so we're told, best represent the ideal in fashion today strike the same pose.
"For this issue of Love, we took eight women who are generally acknowledged as the most beautiful in the world, got them to show off their bodies – widely regarded as the most perfect in the world – and photographed them all in exactly the same position for the cover," Katie Grand, Love's editor-in-chief, told Vogue UK. "We did this to show how much they differed physically from one another, which is why we also printed their measurements."
Photographed by Mert Alas and Marcus Piggot, the third issue promises to be just as controversial as the first, which starred a scantily-clad Beth Ditto on the cover.
Love's 'Fashion Icons' issue it set to hit news stands next week on Monday 8th February , where we'll still be sat trying to pinpoint those physical differences. Answers on a postcard.