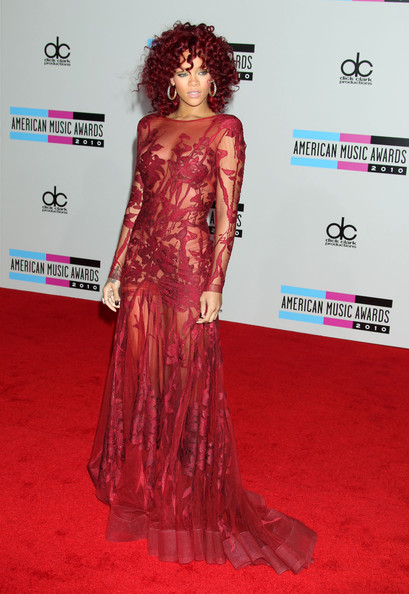 Good Girl Gone Bad has never been more true in the case of Rihanna's controversial new single S&M – and though the title stands for Scandal and Media (yeah right), the singer hasn't done much to shred its sexual connotations if her sartorial choices are anything to go by.
Dressed head to toe in a range of raunchy PVC outfits – notably by young British designer William Wilde – the young popstar whips her way through a gaggle of gagged men, not to mention writhing around with her hands and feets firmly tied together and demonstrating how to eat a banana. Perhaps a little too far this time, Ri Ri?
YouTube thinks so. The video site has predominantly banned her new video – her most erotic performance to date – but The Cut think it might be a backlash against the media (judging by the press conference scene in which reporters are gagged, that is).
Dressed with oversized fierry red hair, a newspaper ball gown (another dig at the media, we reckon) and a Prada fur stole, The Only Girl singer has certainly outdone herself, both sartorially and with this lyrical masterpiece – putting aside the controversial cinematography, the song's a guaranteed club smasher.
See the video yourself below and let us know your thoughts in the comment box below…