Last Updated on 19th February 2011
What: bold pop colours, silk draped feather print dresses and enamel necklaces.
Thoughts: The first line of the show notes read, "inspired by an energetic collision of colour, texture and cultures," which couldn't have rounded it off any better. Generic autumnal shades were ditched in favour of vivid magenta, pop red and tangerine, and not only in the clothes – long strips of fluorescent yellow were painted onto the forearms of the models, too.
To start, designer duo Sarah-Jane Clarke and Heidi Middleton sent out silk feather print draped dresses in monotone shades and suede fringed hems, teamed with the neon-tipped enamel feather necklaces. Pop coloured separates featured rope piping details that hung from the necklines and swung down by the shoulders. Multi-crayon coloured scalloped pieces formed a dress, zipped entirely down the centre, crop top and mini.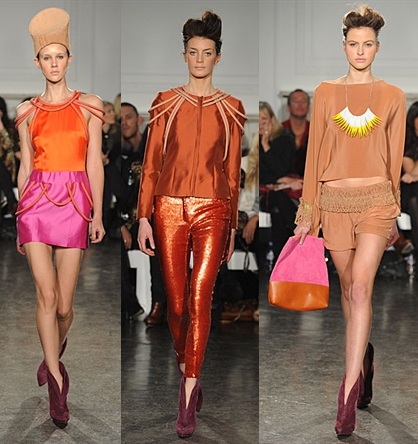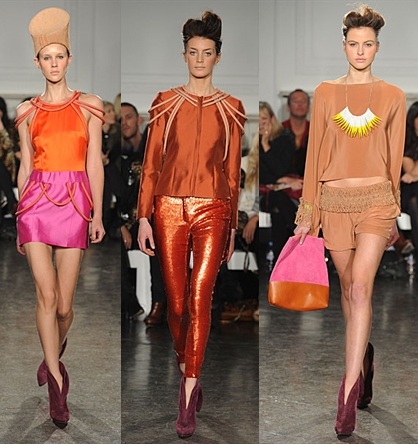 Draped coats and dresses plummeted to the floor in brick and rust coloured suede with weaving detailing on waistbands, cuffs and sleeve heads. Cigarette cut trousers and jacket panels were covered with glittered sequins adding to the bright extravagance.
Collision of cultures came in the form of silk taffeta ikats and hand-painted tie-dye wraps and shots of plaid – maybe it didn't depict the usual traits of an autumn/winter collection, but when you're mind is transported to a more tropical place in time, we don't mind one bit.