Last Updated on 21st February 2011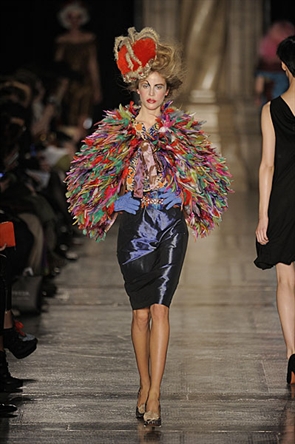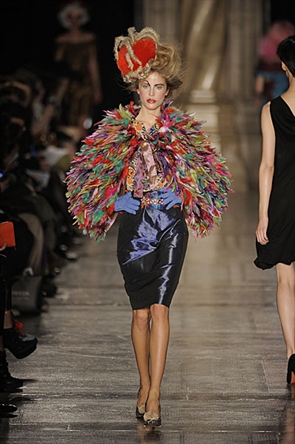 Who: Vivienne Westwood Red Label
What: AW11 Red Label collection, filled to the brim with Vivienne's signature colourful quirky style.
Thoughts: After an agonising wait, it was time to catch a first hand glimpse into one of the Britain's most extravagant runway shows. We have to admit, we truly adore Vivienne Westwood, so when the time came to take our place inside the Royal Court of Justice at London's Strand, our hearts were beating a little frantically with excitement.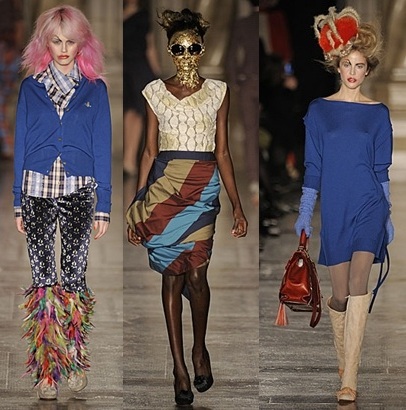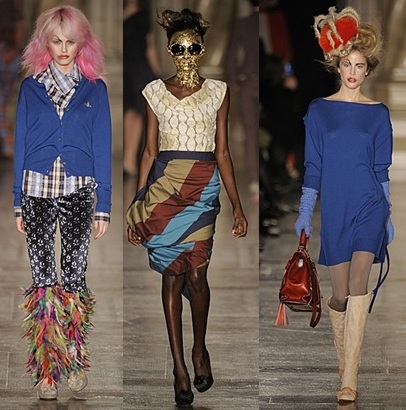 And what a show it was – wacky, crazy, colourful and eccentric are just a few adjectives that spring to mind. The collection was undeniably stunning, with oversized spray-painted hair, gold leaf face paint, statement plush red crown hats (some of which were made out of hair) and multicoloured oversized circus shawls.
Makeup was clown-inspired, tailored black velvet suits were sharp and, naturally, her trademark check and tartan strip was out in full force, making way for a truly out of this world show – and one we'd gladly relive.
Our highlight was catching a sneaky glimpse of one of Westwood's Red Nose Day Shakespeare T-shirts peering through a grey shirt and blue-orange tartan two-piece, as well as seeing British model Daisy Lowe strutting her stuff down the runway – nice touch, Viv.