What: Signature rock 'n' roll, second-skin leather and flurries of fur.
Thoughts: Felder Felder have returned to their signature rock 'n' roll aesthetic for autumn/winter 2011 where, after last season's unsually colourful collection, jet blacks and inky blues predominate the palette.
From suede skinnies to spray-on leather, trousers are tight, but skater skirts and silk draping work to soften the edge the Felder Felder girl wears next season.
Form-fitting bodices, some studded with silver embellishment, sit alongside loose cowel-necked tops for a paradoxical variation, whilst coats come boxy in leather or sharp in tailored wool, often with feather trims – and if they don't, be sure to find a feathered necklace or cuff elsewear.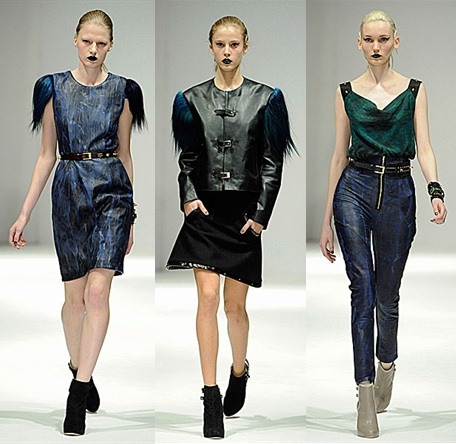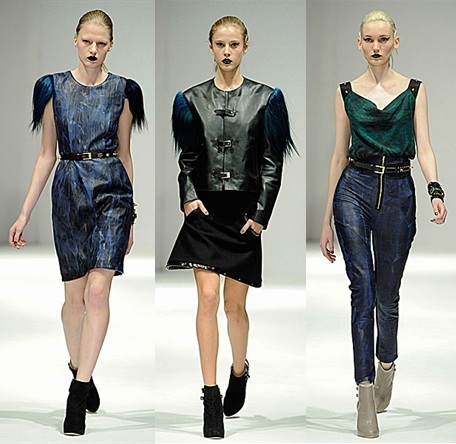 Blacks and blues provide a daring dark base for Felder Felder's latest offering, interspersed with grainy green water-like prints – a reference to stormy seas, we presume – across gathered dresses and slouched silk tops, but there's room for calm after this storm.
Ice whites and space-like silvers – look to the white mohair-skirted coat with silver star embellishment as a key piece – offer a more refined direction for the designer duo, working to soften the harshness of tougher, grungy pieces with a simple, futuristic feel.
It's cleaner than previous seasons, but it's just as cool, and we expect existing fans will lap it up as much as new followers.