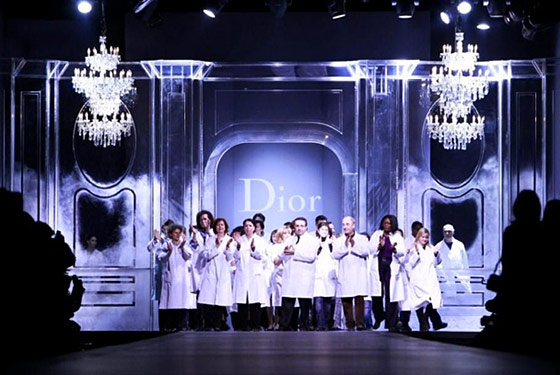 Despite the controversy, Dior presented its show according to schedule in Paris this afternoon – a sign of defiance to any disbelievers that the show must, and indeed will, go on. And as the house geared up to show the last ever collection crafted by dismissed creative director John Galliano, the pressure to perform under crisis was on.
But the wild clapping and standing ovation received by the team of 40 or so 'petites mains', clad in white lab coats, who took to the runway to receive applause in place of the designer's bow was proof that, perhaps, Dior had pulled it off.
In light of Galliano's anti-Semitic remarks and the chaos that's ensued, Dior CEO Sidney Toledano made a quick appearance to address the audience and the past week's events before the show started with a poignant statement.
"What has happened over the last week has been a terrible and wrenching ordeal for us all.

"It has been deeply painful to see the Dior name associated with the disgraceful statements attributed to its designer, however brilliant he may be.

"Such statements are intolerable because of our collective duty to never forget the Holocaust and its victims, and because of the respect for human dignity that is owed to each person and to all peoples.

"These statements have deeply shocked and saddened all at Dior who give body and soul to their work, and it is particularly painful that they have come from someone so admired for his remarkable creative talent," he read.
And then it was lights down as the show began, led by Dior girl Karlie Kloss in a dramatic cape and knee-length knickerbockers. It wasn't, perhaps, the house's best collection in terms of clothes – some critics have dubbed it a bit "sub-dued" with "no strong point of view" – but it was heavy on handbags and there were moments of Galliano's exquisite detail.
Whether for wrong reasons or right, this afternoon's Dior show has been one of the house's most talked about in its history, and as we mark the end of an era, fashion's left feeling bittersweet – a "very sad front row" says the Times; "Dior will come out of this better than before. Weirdly a coup for the brand. Very weirdly" says WSJ's Christina Binkley.
See the full Dior collection below. Galliano, we salute your great genius – Dior, we salute your strength.
[nggallery id=6]
[Opening image courtesy of NY Mag; collection images courtesy of showstudio]