Last Updated on 10th March 2011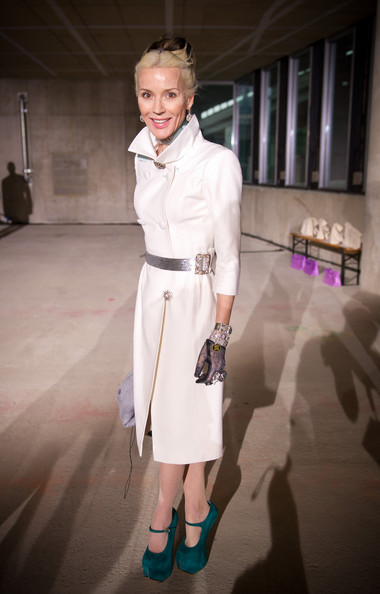 Daphne Guinness has long favoured the work of Alexander McQueen, so it comes as no surprise she expects great things from the label if Kate Middleton were to ask the brand's creative director, Sarah Burton, to design her exclusive wedding dress.
Here she talks openly, and honestly, about why Burton would be the best candidate to create such an historic marital gown.
"A marriage is a solemn affair. The tempest of emotions and the myriad of arrangements are giddying, and when one is faced with these, clothing seems to be the last of one's priorities. But if the rumours of Sarah Burton for Alexander McQueen being the architect of Kate Middleton's wedding dress are to be believed, it is both wonderful news and an inspired choice. I do not use the word "architect" lightly, because one of the keys to good dressmaking is to know the rules backwards in structure – if you are to break them! And Sarah Burton most certainly does.
Burton worked for such a long time – 14 years – with Lee Alexander McQueen, and this commission was clearly her calling. She is such a feminine designer and I would expect the dress to be nothing short of astounding. She will not disappoint Miss Middleton, nor the world watching. In fact, I would wager that it will be one of the most interesting and beautiful dresses ever made. Burton's creations, after all, are the apogee of fantasy and beauty."
But what does Daphne think the dress will look like?
"The dress will most likely have an imperceptible but highly evolved structure. Its elegance will appear effortless, despite the fact that an enormous amount of thought will have gone into it. My guess is that dressed in a Sarah Burton creation, Miss Middleton on her wedding day will look ethereal, a heightened version of herself. It will not be an ill-fitting amateur affair but will show off her strengths without being crude. In short, this will be a defined silhouette and something we have not seen before in quite the same way. I imagine it to be slim fitting but with a hint of futuristic Victoriana."
She continues to explain why McQueen would be a good all-round choice for Kate.
"In choosing Sarah Burton, Miss Middleton not only shows that she supports British designers but that she is also shedding her sweetly demure look for a more serious aesthetic. And if one cares to look under the surface for what her choice reveals, I would say it shows that Miss Middleton considers this a serious construction of a life that will be lived together, with all the intricacies that a shared life involves. A structured dress is an auspicious start, a dress that simultaneously says all of those things, but yet glories in its beauty."
And finally, she ends with some very kind words about the future Queen of England.
"But McQueen or not, the main thing is that Miss Middleton wears the dress she has always dreamt of, because, hopefully, one only gets married once. I do not know Miss Middleton, but she seems to me to be a very thoughtful young lady. Good taste comes from judgement, not intellect – though it looks as though she may just have both."