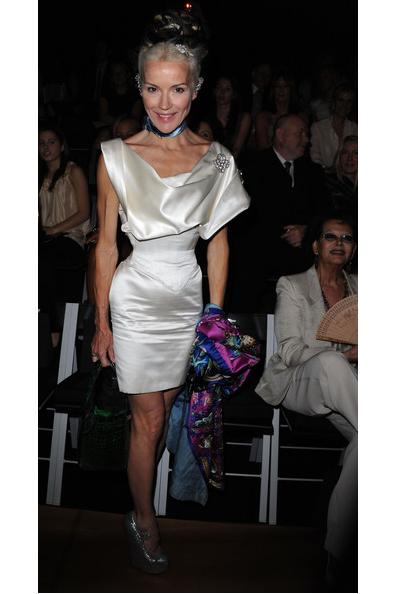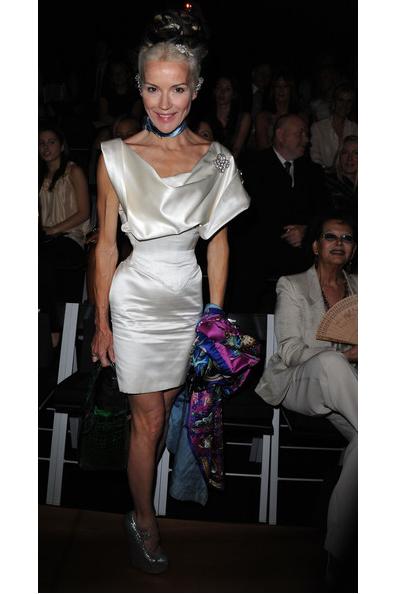 For someone as avant garde as Daphne Guinness, you could be forgiven for thinking she dresses for an artisan, or for her fashion-admiring fans, but you'd be wrong. No, Daphne Guinness doesn't dress for anyone other than the grannies who sit in airports.
Apparently old people find her style incredibly amusing, especially when she pulls out her party trick.
"I do it for the old people who laugh at me in airports," she tells the Cut of the way she dresses. "I like to walk in with my heels and stand in front of people on their laptops and then drop down and suddenly they look up and you're ten inches shorter. And it gives everybody a good laugh. You can only dress like this if you get the humour of it."
Rather refreshing, really, that for someone with a status as iconic as hers, Daphne's still in it for the fun of it all. The weekend just gone at the AIDS Community Research Initiative of America at Steven Klein's Hamptons estate is an example in case. Women wore summer cocktail dresses and the men bow-ties, but Daphne dressed in the way we imagine a corpse bride would after discovering the word ethereal (that's one for the imagination, eh) – or, in her own words, "really weird".
If you want us, we'll be at the airport dressed in beige slacks and pop socks sporting a suitable blue rinse – we really want to see Daphne's drop-down trick for ourselves.