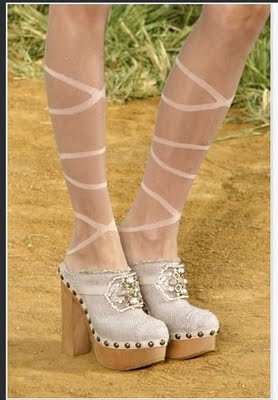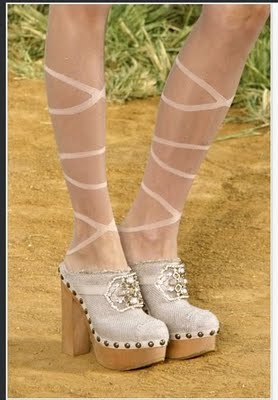 Ever look back and wonder why you wore that? So do we. This week we're casting our minds back to the trends we wish we'd never laid eyes on, the one hit wonders we wish we'd never worn, and the ones we're well-rid of.
Only if you live in Holland and have grown accustom to these hideous wooden items of footwear are you forgiven for favouring the dreaded clog. As for the rest of us, there was no excuse for the unwelcomed return of this awful backless shoe last spring – which made way for a rather unwelcomed fashion trend we'd soon forget.
Other than the Seventies, there was a brief spell in the mid-Nineties when clogs suddenly became fashionable again, so this in itself should suggest some things are better left well alone – absence definitely doesn't make the heart grow fonder for these little mules.
But where Parisian fashion giants Chanel are concerned, the clog was the perfect footwear frame for last year's SS11 collection, with nearly every outfit finished off with a pair of these ankle breaking disasters.
Not only are they difficult to walk in, you're guaranteed almost certain injury with every step you take – but hey, who cares, right? A broken ankle here, a twisted foot there, it's all in the name of fashion, dahling! Yeah right.
These were by far the worst comeback disaster of last year (especially after the high street did them to death) – and one we won't be reliving anytime soon.