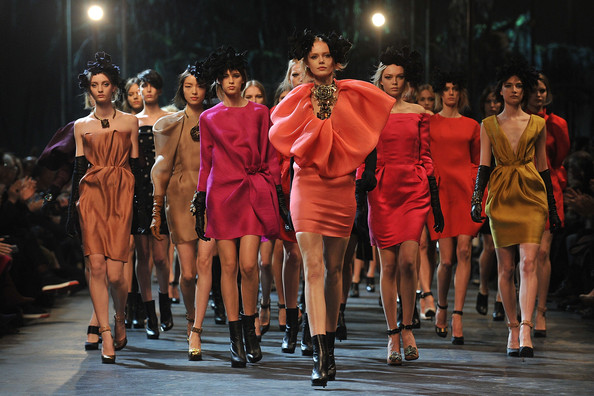 As Paris Fashion Week brought the month-long round of AW11 collections to an end, we've scoured through the shows to bring you a quick-fire round-up of our favourites from the City of Light.
Take a look at our highlights from the sartorial proceedings in Paris below…
Who: Alexander McQueen
What: The collection, at times, maintained a softer silhouette than we're used to from the house of McQueen, but once again Sarah Burton proved she knows what she's doing with the label. With white tweed skirts, fur accents, opened pleats, grey separates, intricate suits, knitted fur detailing, raw chiffon frills, spray-on leather leggings, robotic bustiers, platform shoes and moulded silhouettes galore – this was yet another truly astounding collection, with McQueen's signature style printed all over it. And the finale of wedding-esque dresses did nothing to dispel the Kate Middleton rumours.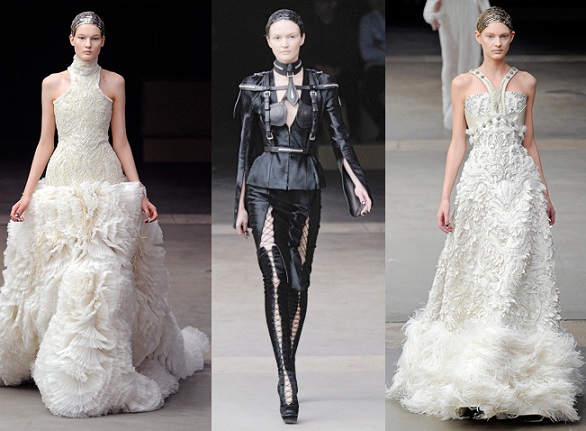 Who: Chanel
What: Lagerfeld definitely celebrated International Women's Day with his autumn/winter collection at Paris Fashion Week, and with raw silhouetted clothing making a profound impact on the catwalk, there was no denying the rough, tough and ready mood of the clothes: an abundance of boiler suits, cropped jackets, pleated trousers, tweed legwarmers, flat brogues and mannish ankle boots.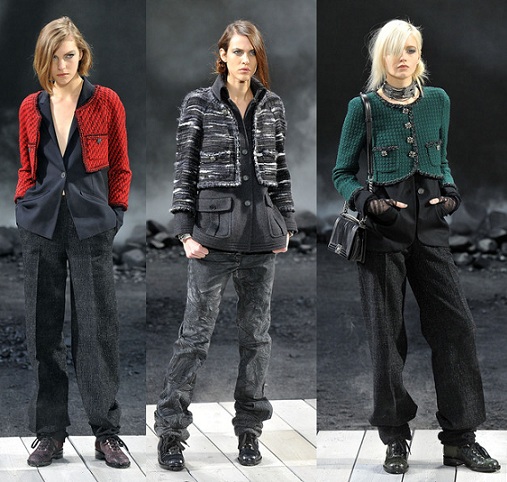 Who: Louis Vuitton
What: A quintessential collection of hotel uniform-inspired clothes, with patent leather jackets, sheer skirts exposing suspenders and bottom-revealing cashmere onesies completing the array of rule-breaking get-ups. Surprise appearances from Naomi Campbell and Kate Moss smoking stole the show.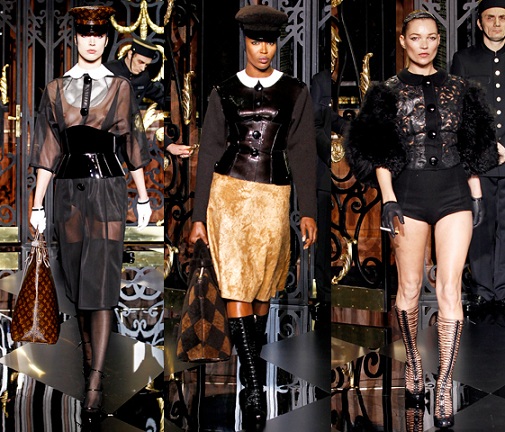 Who: Lanvin
What: A collection of sophisticated silhouettes, with mustard and caramel draped fabric dresses aplenty.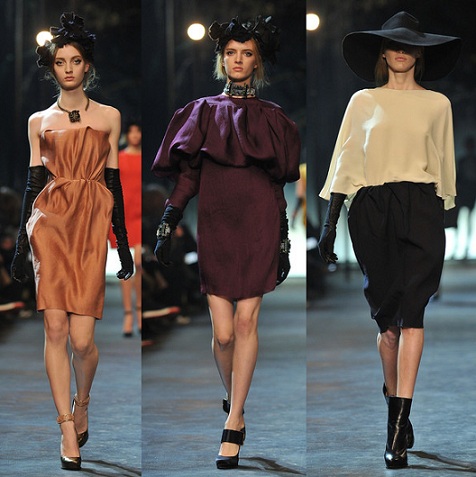 Who: Valentino
What: A romantic collection of lace and cashmere, delicate jumpers and A-line dresses.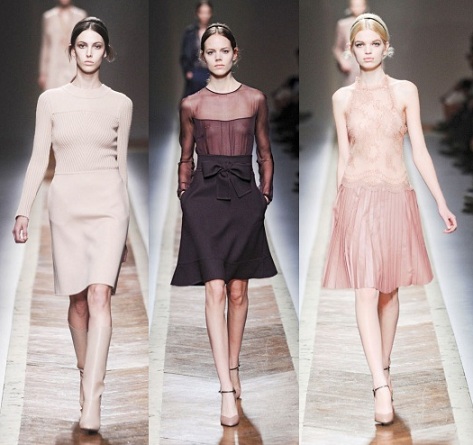 Who: Miu Miu
What: A statement collection of signature Sixites shapes, bold colour blocking and sparkly heels galore.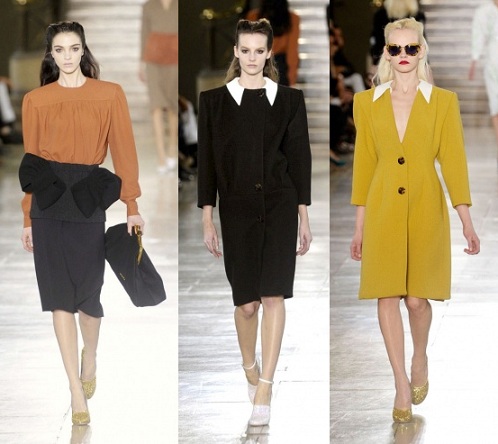 Who: Givenchy
What: A collection inspired by the Japanese kimono silhouette and floral prints, alongside classic straight cut shirts and pencil skirts in a predominantly black palette.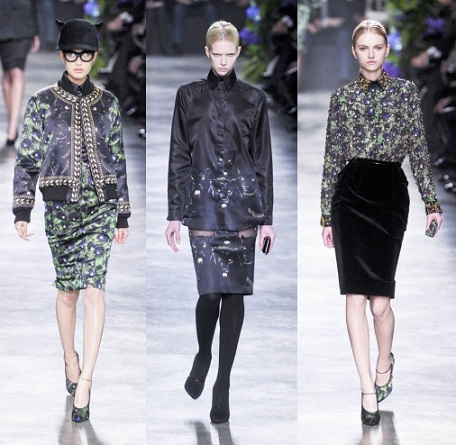 Who: Balenciaga
What: A stunning collection of ruffled masterpieces, complete with plaited and hard-edge detailing, with pencil skirts and waist defining separates making a profound performance throughout.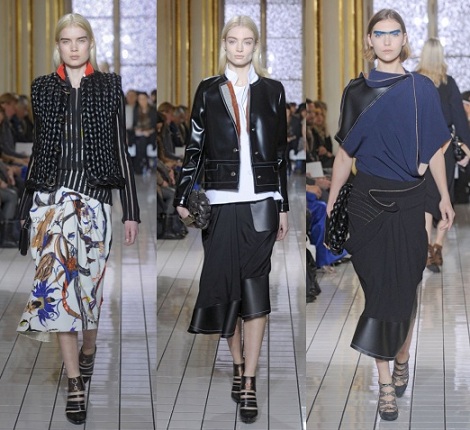 Who: Stella McCartney
What: An edgier silhouette than we're used to from Stella, the collection was more in keeping with mass covetability, along with the skewed proportions and directional shapes of the season.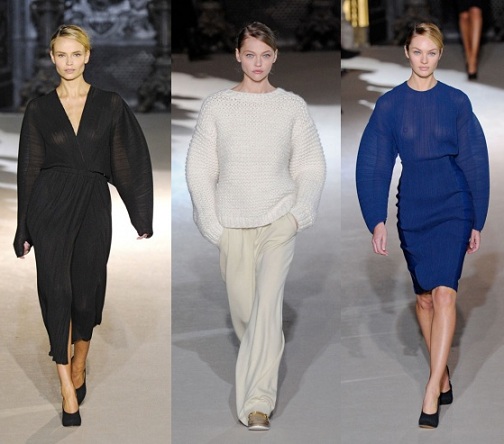 Who: Chloe
What: The collection remained faithful to Chloe's Seventies-inspired roots, but with extra zest thrown into flowing pleated dresses, loose leather high-waisted pants and sheer shirts.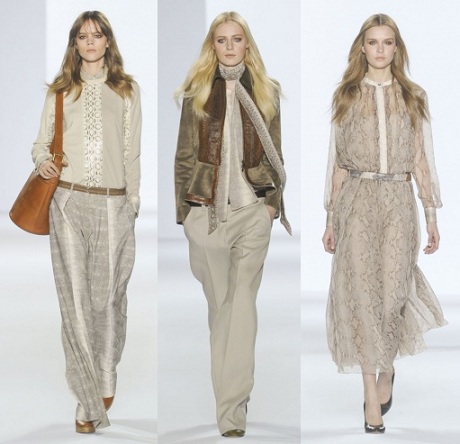 Who: Yves Saint Laurent
What: A modern take on the wardrobe staples of the swinging Sixties and Seventies era, complete with Prince of Wales checked blazers alongside an abundance of houndstooth and tartan printed separates.