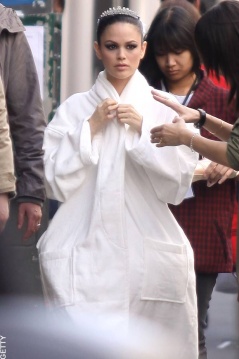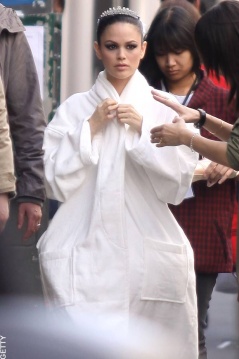 Karl Lagerfeld currently has his hands full directing Magnum ice cream's new advertising campaign, which sees American actress Rachel Bilson cast in the starring role.
The former O.C actress was spotted in Paris earlier this week channeling the now iconic Black Swan-inspired look – complete with her hair scraped back tightly into a bun, a neatly pinned tiara and nude-coloured ballet pumps… slight touch of the ballerina fever, eh Karl?
And even though her outfit was well hidden by an oversized white robe, judging by its voluminous shape, there could well be a tutu hidden under there to complete the ballet-inspired ensemble.
Whether Ms. Bilson will be the sole star in the ads remains debateable, although Vogue UK reports that Chanel muse Baptiste Giabiconi was also spotted on site on the day of the shoot – but naturally, no one has yet confirmed such billowing gossip.
Still, there's nothing like a bit of ice cream to get you in the mood for spring.