Last Updated on 26th October 2011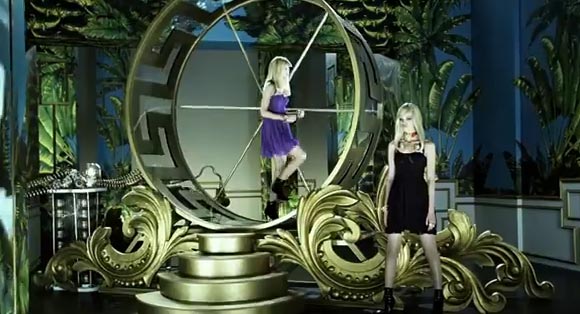 Fresh from revealing the entire Versace for H&M lookbook (and a stunning one it was, too) Donatella Versace and the rest of the team involved in the project have revealed some behind the scenes action from the upcoming TV commercial.
From what we can see, the commercial stays very true to the collection itself, so you can expect bright colours, wild and crazy seventies inspired décor and apparently "all the gold paint in London," according to production designer Jan Houllevigue.
Just like many of the designs in the collection, the set is quite trippy, as is some of the activity that goes on. For example, models Lindsey Wixson and Daphne Groeneveld can be seen running in a giant hamster wheel in one shot, while in another, they are being airlifted from a staircase backwards…
We're not sure if this will all come together in the form of some plausible narrative or whether it will be very elusive and slightly nonsensical, but we love it already and can't wait to see the finished outcome.
http://youtu.be/aGEp8QewfM0