BACKSTAGE: The lovely people at Toni & Guy invited us to see all the backstage action at Todd Lynn before the show kicked off! The Toni & Guy stylists were listening intently to every word Cos Sakkas, International Art Director for Toni & Guy, was saying – as well as watching every movement very closely to be able to recreate it with accuracy and precision. You can tell Cos is one hell of a perfectionist!
It was clear to see that the team were creating a wet look for the model, the secrets of which were later explained to us by none other than Cos himself. And what's the secret to maintain that wet look? Shine spray as an undercoat, with lots and lots of gel on top!
"Really head-hugging and really reflective," Cos said about the look as a whole.
"And then you've just got the front hairline which is slightly webbed, and it just sits around the ears so you have the madness around the head, but the structure inside. Low ponytail in the nape, worked with a really strong centre parting with loads of gel, which keeps it small and shiny… and then what we'll do later on is pull the hair apart with the fingers so it looks like the hair has been shaved underneath."
Although Cos has worked on Todd Lynn's shows for over five seasons, he admitted he still found it challenging…
"It's quite challenging because it's creating two textures in one but still using the same products. When things are wet it all clomps together so it's about pulling that apart which kind of goes against what it's supposed to do if that makes sense. But we got there in the end."
That they did. After we left, the team then added metallic Todd Lynn clothing labels to jazz up the ponytails!
THE SHOW: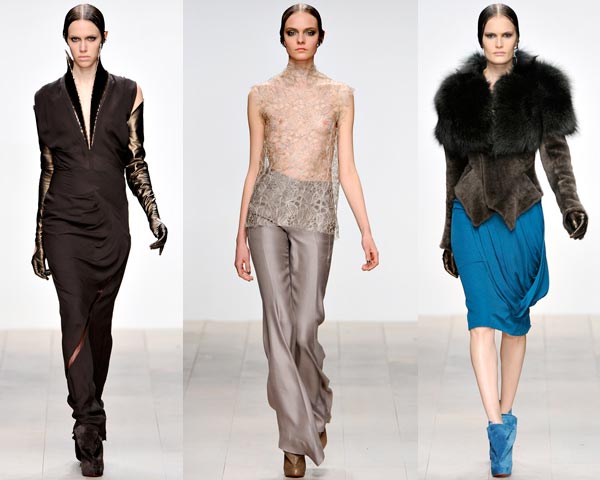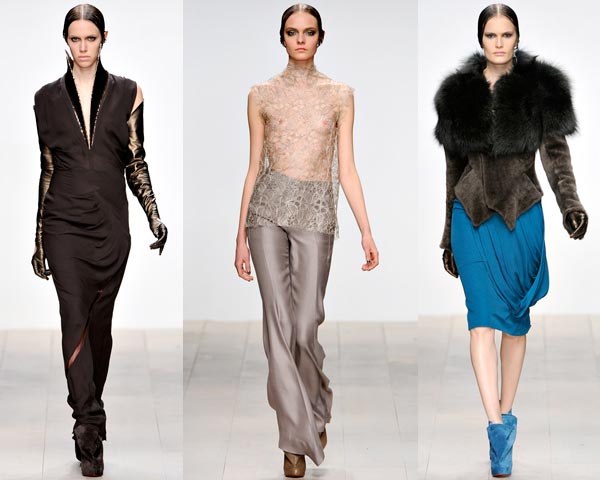 Who: Todd Lynn
What: A little softer than his usual edgy, rock and roll collections, although the classic aesthetic emerged towards the end of the show by way of spiky collars and lots of leather.
The fitting was predominately loose and flowing, as trousers and dresses alike were fluid and moved with ease with every step the models took. You're never going to be cold in Todd Lynn's latest collection, as he presented fur stoles, a generous selection of warm coats and lots of high collared garments to keep out the chill.
Highlights: After witnessing the creation process, we have to say the hair! We loved seeing the finished product with the added silver detailing and it was great to see Cos Sakkas' vision come to life.
The Christian Louboutins were another definite highlight, which we quite aptly referred to on Twitter earlier as "shoe porn."
Lowlights: We applaud Todd for going in a slightly different direction this time around, but we would have liked to see more space age inspired stuff too (we're glad there were a few sci-fi infusions still in there, e.g. the silver trousers in the middle) as that's one of the best things about him.
Overall: Although the British designer has taken the main aesthetic of his autumn/winter 2012 collection in a new direction, many of his signature, edgy, structured elements were still there to cater to his diehard fans' needs. You know the Todd Lynn wearer is always going to be a stylish lady with individuality and her own take on fashion; and despite moving in a slightly different direction this season, that's still the overall consensus for this collection!