Who: Mulberry 
What: Mulberry is now officially the outerwear-God! The collection was comprised of a predominantly natural, and earthy colour palette, with an injection of orange – we think one of the hot shades of the season if previous designer collections during fashion week so far is anything to go by – to add a pop of colour to the runway.
In keeping with the "wild" theme, the collection contained an abundance of hairy coats, gilets, jumpers and jackets which came mostly in natural, woodsy colours. As if that wasn't enough to keep you warm, the British brand also entered oversized scarves and lots of chunky knits into the equation too. Given the fact that we were freezing our leather-clad posteriors off in the queue in the morning, seeing those designs before us only confirmed that Mulberry knows the British girl well… and any one of the pieces in the collection would have been greatly appreciated by us that morning!
Highlights: Seeing the brand spanking new Del Rey handbag, naturally. (You may have seen the buzz around it on Twitter earlier, but just a few hours before the show, Mulberry introduced its brand new Del Rey bag, which you guessed it, was inspired by American songstress Lana Del Rey! Pics below)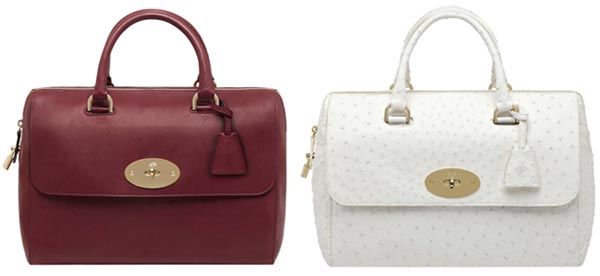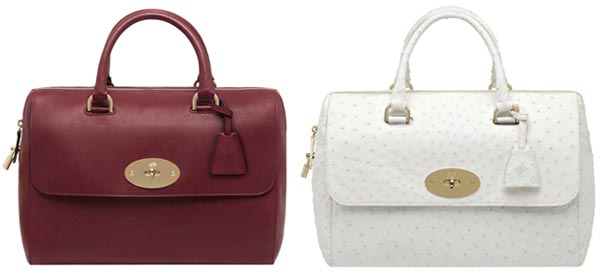 Lowlights: Ok, we'll say it… we heard – and then saw photographic evidence – that the lovely Elizabeth Olsen was sitting front row (alongside the likes of Anna Wintour, Olivia Palermo and Michelle Williams) and we missed her. Beyond gutted we couldn't peek at one of our serious style crushes of 2012. Make sure you check out our gallery below, which includes pics of the famous faces in attendance.
Overall: We were almost bursting with excitement and anticipation to find out what lock our giant keys (which were incidentally our invites and "keys" to the show) would fit into, so that we could unearth what was hidden inside.
The collection was once a closely guarded secret, but now that it's officially been unveiled, we have a feeling everyone's going to be shouting about it from the rooftops.
[nggallery id=181]