We are swapping our heels and the cobbles of Somerset House for flats, copious cups of tea and the comfort of our office chairs to browse the brand new autumn/winter 2012 collections that have just hit the runways of Milan Fashion Week. 
There were two stand-out shows on the first day – Alberta Ferretti and Gucci, both of whom interestingly strayed from their signature styles this season.
Alberta Ferretti tapped into a rare darker side for the autumn/winter 2012 collection, as instead of showing light, fluffy and dream-like pieces like we are used to, she chose a dark and moody colour palette accompanied with sharper, sleeker and more structured silhouettes.
Despite the change in direction though, some lighter pieces appeared on the runway too, and  in true Alberta fashion, there were still a number of utterly fabulous dresses that the stars of Hollywood will be lusting after for their big events, so we can't wait to see them hit the red carpet!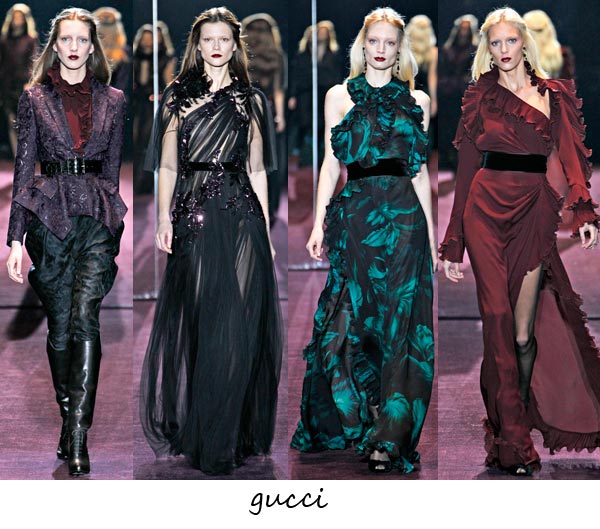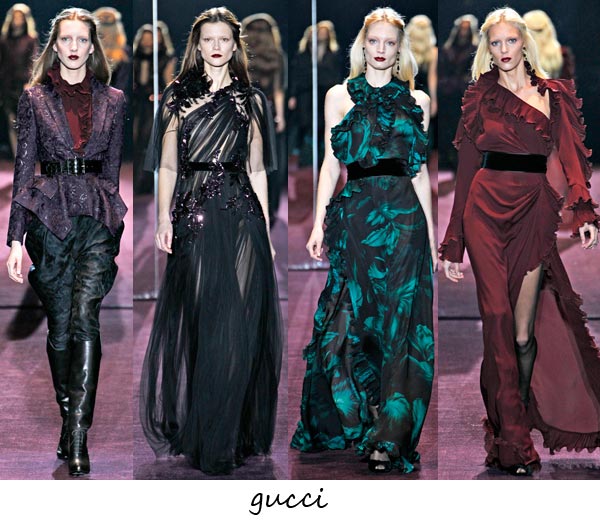 The darkness continued over at Gucci, as the audience was presented with a moody and romantic show. The pieces were prominently in dark, wintry and opulent shades, with dramatic lip colours following suit. Eyebrows were practically non-existent to further accentuate the rest of the darkness. A deep collection with lots of velvet, chiffon and awards ceremony-ready gowns to boot! We wonder how many magazine covers this season's collection will feature on…