Let's get down on our knees and praise Vivienne Westwood and Jean Paul Gaultier for the gorgeous display of colour that has been lacking in many designer collections this season. It wasn't all hugs and rainbows though; much of Vivienne's collection was influenced by those good old historic times (Elizabethan and Edwardian in particular) that Ms Westwood draws a lot of her inspiration from, making it another wonderfully British collection. And kudos to the model who rode a bicycle down the catwalk!
Over at Jean Paul Gaultier, in amongst the bright and colourful ensembles, was an abundance of fur, knits and puffer jackets. And it looks like he went for a less controversial theme this season round. If you cast your minds back to just a few months ago, his Couture collection was heavily influenced by the late Amy Winehouse, which may have been loved by some (us, included) but wasn't well received by his muse's family.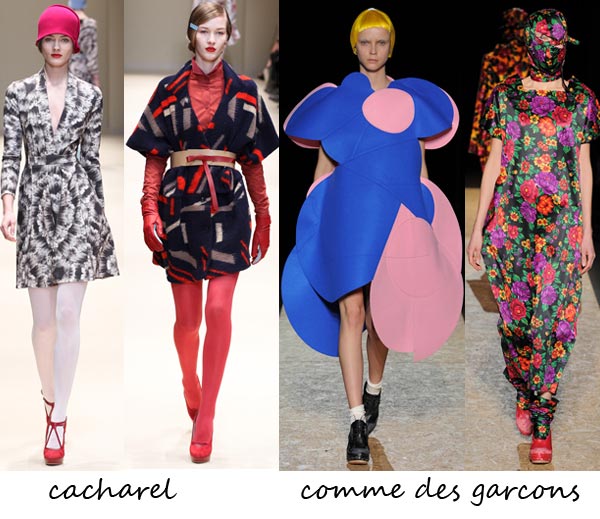 We felt that Rei Kawakubo's Comme des Garcons presentation was one of the most surreal shows we have seen this autumn/winter 2012 season, as the models came out looking almost cartoon-like in their stiff multi-dimensional dresses and lego-esque hair.
Now that John Galliano's former intern Haider Ackermann's name has been thrown into the Dior creative director equation, his latest collection is probably his most important yet. Luckily for him, he did a marvelous job, presenting a collection that he said was inspired by the colour of autumn leaves. We loved the layering and the styling as a whole, too; we honestly can't fault it!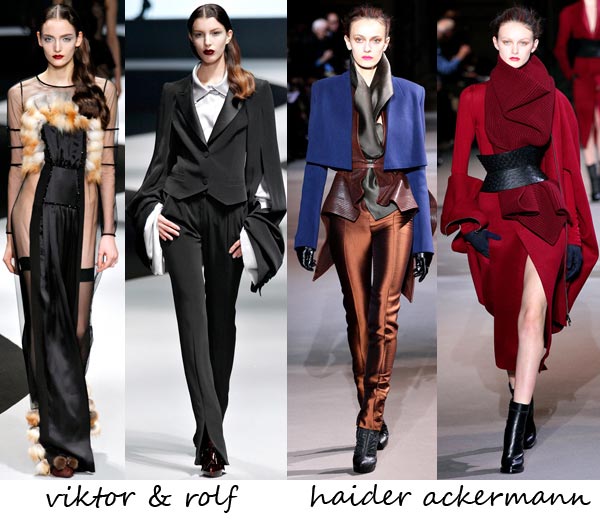 Katy Perry was among the front-rowers at Viktor & Rolf which surprised us, seeing as there wasn't a bubblegum or candy floss coloured garment in sight for the collection that was allegedly inspired by the moon. The colours may not have been to Katy's current tastes, but the outlandish, sexy nature of them is definitely up her street.
But perhaps the best thing about the Viktor & Rolf show was the fact that the models had to strike a fierce and impressionable pose on a conveyer belt before they actually made it onto the runway. A fashion first? Plus, we'd love to see Elle MacPherson introduce that as a challenge on the next Britain and Ireland's Next Top Model. Producers, take note!