As Sunday is a day of rest, we decided to take a well deserved break from all the London Fashion Week madness of the past couple of days and recharge our biological and technological batteries.
However, that's not to say that we didn't have time to stop by a few shows – fashion is of course an all-consuming part of our lives –  as we wouldn't have missed the Temperley London or Paul Smith shows for the world.
As we predicted, Temperley London and Paul Smith were spectacular, and both designers respectively presented strong, versatile, memorable and very wearable collections. We gave you a few sneak peeks on Twitter, but now it's time to take a closer look at some of our highlights: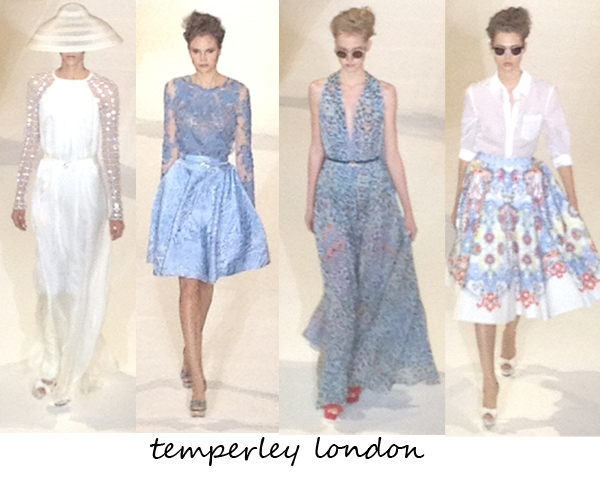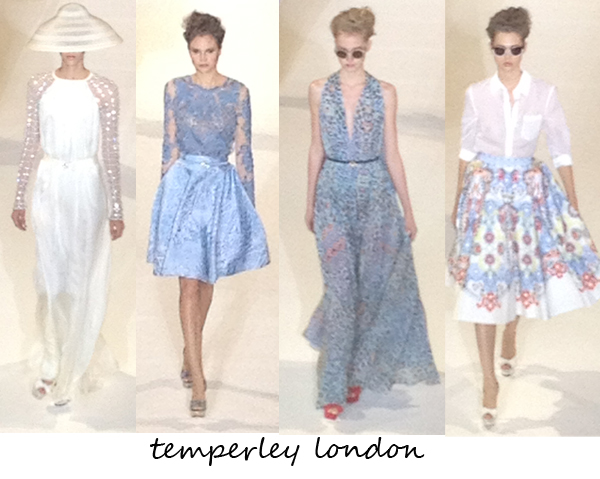 Who: Temperley London
What: The show invite promised a "return to elegance" and boy was it right! The spring/summer 2013 collection was worlds away from Alice Temperley's dark and heavy autumn/winter 2012 offering, as we were treated to lots of dresses and separates in fun, summery shades of pale blue, white a light grey. We thought it was a stunning collection; we were in awe from start to finish! And from where we were sitting, we think Poppy Delevingne, Anna Friel and Pixie Lott thought so too.
Highlight: The view on the VIP balcony was incredible, and we loved spying all the action on and off the catwalk. Celeb-spotting made easy! As far as the pieces were concerned, there were more than a few lace numbers that had us foaming at the mouth, and the hats were a delightful little touch! Personal fave dress has to be the white creation with the sequin sleeves… divine!
To summarise:  Fun, light, glam and sparkly with a hint of vintage thrown in for good measure. Best collection yet?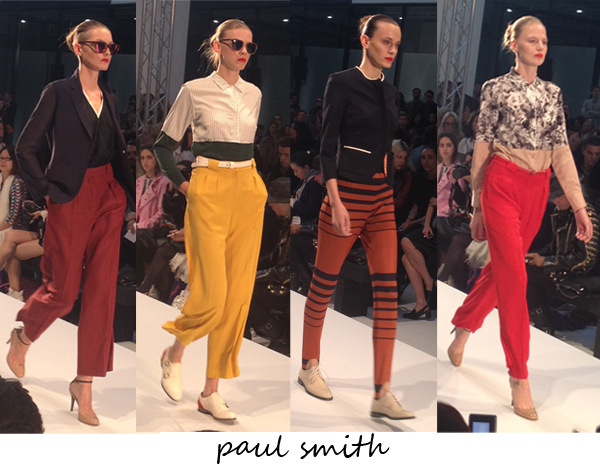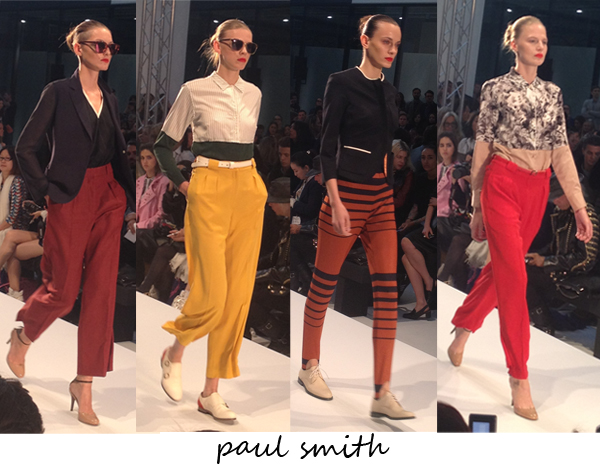 Who: Paul Smith
What: Looks like colour blocking is back – the Paul Smith way! Preppy, casual, sporty, unassuming… and a fine mix between androgynous and overtly feminine. We saw some modern and sexy twists on the classic Paul Smith silhouette too, such as slits in a few of the skirts… not to mention some halter neck dresses with very plunging necklines. Oo la la! Stripes aplenty, and tons of mustard yellow hues to boot. Brogues complemented the chic and effortless pieces perfectly, but there were a few stilettos thrown in there to shake (or should we say, sex) things up a bit. Can't fault this collection!
Highlight: The main man himself walking the runway, of course! And the brightly coloured trousers also went down rather well too!
To summarise: A casual, summery collection which caters to the traditional Paul Smith girl perfectly.