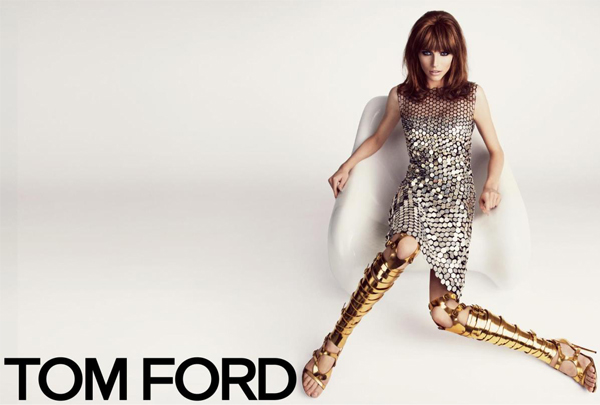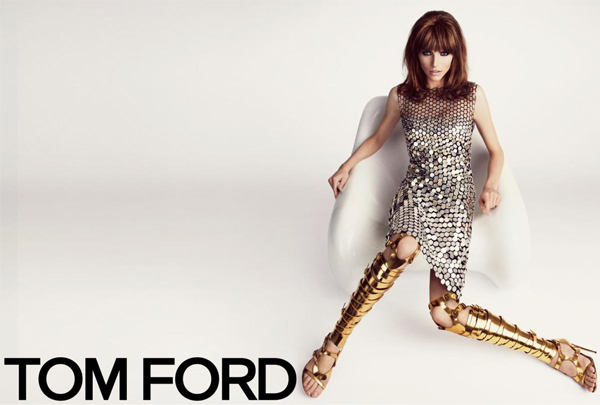 Tom Ford is really going for it this year! The designer has been prone to keeping things on the down low in the past, but the fact that he is shunning his traditional small-scale presentations and going for an epic catwalk show at London Fashion Week next month shows that he is kicking thing up a gear. New year, new start!
The aforementioned new start is already reflected in the newest set of ad campaigns for the Tom Ford spring/summer 2013 collection. Even though the traditional Tom Ford simplicity is still very much apparent in the ads starring Karlina Kate, Caune and Simon Van Meerven, you can see a hint of that added wow factor starting to creep in. And we don't just mean those crazy cool gold bondage-inspired shoes, either. (Anne Hathaway wore the black ones to the Les Miserables New York premiere, just in case you're scratching your heads wondering where you've seen them before!)
We're betting there's going to be a stark contrast in the autumn/winter 2013 ad campaign images when they eventually come out, but we hope the traditional Tom Ford aesthetic doesn't get lost in all the new changes.
We love these images; do you?