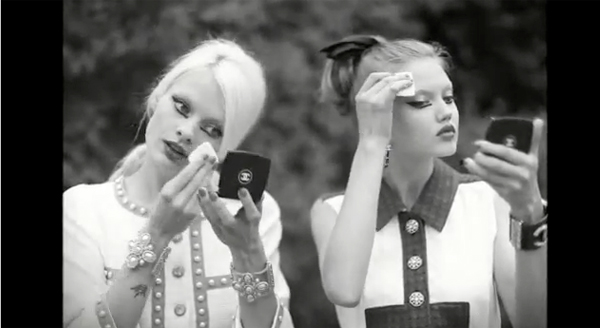 We'll be showing you some of the key looks from the new Chanel Couture collection that debuted in Paris yesterday a little bit later on, but we thought we'd treat you to another fine piece of Chanel art first.
Karl Lagerfeld shot a great black and white short film entitled 'Public Garden' at the Rodin Museum in Paris, which features model Lindsey Wixson and his very own godson Hudson Kroenig.
The short film is romantic, playful, chic, and pretty much sums up the French fashion House in a nutshell. The Charlie Alex March Crisp White soundtrack is particularly moving too.
Lindsey and a blonde female friend can be seen admiring their new Chanel purchases and touching up their make-up (Chanel, obvs) while French model Aymeline Valade struts purposefully along the picturesque gardens, turning heads with her striking stripy Chanel trousers. As usual, little Hudson Kroenig steals the show (he usually makes an appearance at the end of Chanel presentations) confirming that he's going to be quite the heartbreaker when he's older.
Oh and before you ask, Choupette Lagerfeld also makes an 'appearance' too, but maybe not as you'd expect. Intrigued? Watch the video below to find out what we mean. Enjoy!