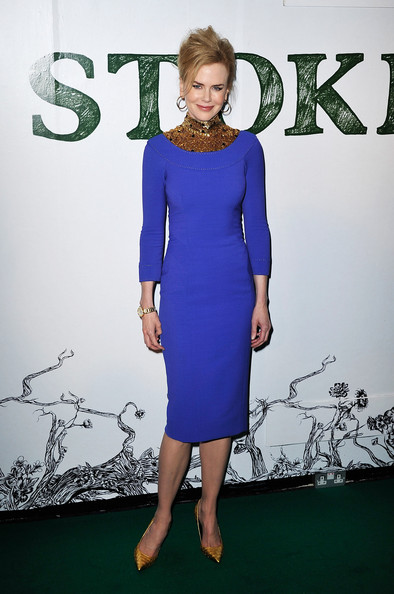 While Diane Kruger usually gets first dibs on Chanel, we think it's safe to say that Nicole Kidman is the first person to test out L'Wren Scott's new collection, as the actress stepped out in a cobalt blue dress last night that only made its way down the runway just a few hours earlier. Talk about fast fashion!
Nicole blew the other sartorial competition out the water at the London Stoker premiere, which is sometimes quite hard to do when exposing as little flesh as possible. We always find it refreshing when a female celeb steps out in something chic and conservative, because the "less is more" mantra is so common on the red carpet these days.
The rich gold and blue tones worked seamlessly together, and brought out Nicole's beautiful blue eyes and golden locks perfectly. This is the personification of red carpet class – we hope to see more of this at the Oscars!