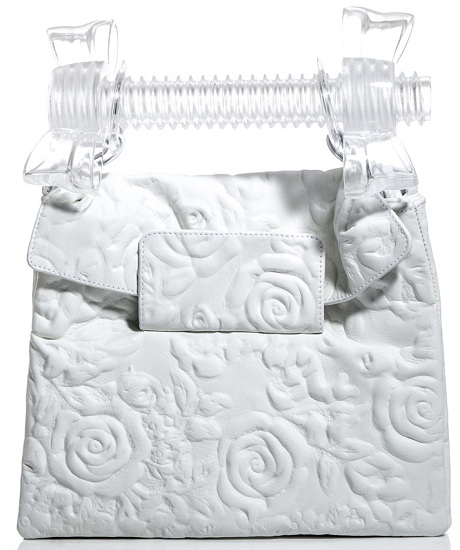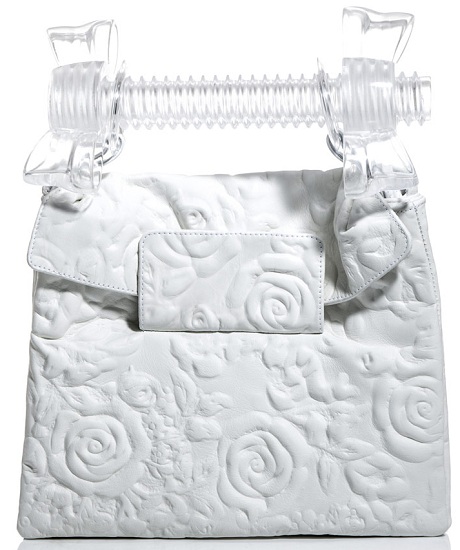 Casting quite the spell with yet another stunning collection for autumn/winter 2013/14, Christopher Kane is once again on our Yay or Nay radar.
This time, the Baby Frankenstein bag takes centre stage, as we ponder over the pros and cons of getting our handbag hungry mitts on this avant garde beauty. We call it this because, just like the character it's named after (the bolt top handle is a big giveaway) this bag made us look twice.
'Ugly' in an intriguing way (if that makes sense!), the Baby Frankenstein is a mash-up of Kane's alternative vision; combining wearability with superior design credentials, this clutch-tote mash-up will effortlessly serve as a conversation starter.
In this season's most desirable hue, white, the floral embossed-leather bag has a button fastened front flap and an optional clear-plastic large bolt top-handle. Here are our reasons for and against investing in the Baby Frankenstein:
Yay
On trend: The spring 2013 runways called for a whitewash, and the Baby Frankenstein takes this colour trend on board perfectly. A bag is an easy way to tap into a trend without outfit overkill.
2-for-1 bag: The detachable bolt top-handle allows this bag to become an evening-perfect clutch and a day appropriate tote, all at once. So, the hefty fee you pay allows the Baby Frankenstein to fall into the buy one, get one free territory. Savvy shopping or what!
Directional-yet-pretty: Perfectly embodying Kane's style aesthetic, the Baby Frankenstein effortlessly marries everyday use with surprising detail. The floral embossed detail is feminine, yet the clear plastic handle brings out the bag's (and the Kane woman's) second style personality.
Nay
Price: Erm, a clutch-sized double bag for £1,500? Is that our bank balance we can hear wailing in deep agony?
Stain easily: As much as we love its minimalist connotations, white isn't the most practical colour to wear. Unless you mollycoddle your bag like a newborn, daily wear may result in heartbreaking staining. Given Christopher Kane's wares don't really fall into the wipe clean category, it's a point worth considering before your freak out over the pen mark on your beloved bag, delivered courtesy of a passer-by who doesn't understand what Kane does for our hearts (or our bank balances).
Impractical size: Yes, another sad clutch-induced story. As much as we'd love to justify spending our Céline fund on what's effectively a matchbox-sized addition to our bagdrobe, given the abundance of super size totes already in there, the lack of available space to carry our life in this bag is a little, well, worrying. If you're after a decent sized clutch, the Baby Frankenstein may not be the most sensible investment.
What are your thoughts on the Baby Frankenstein? Will you snap it up?
Christopher Kane Baby Frankenstein Embossed Leather Bag, £1,500, available at Matches.