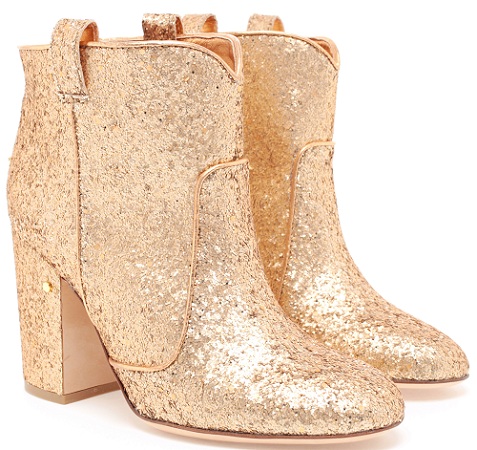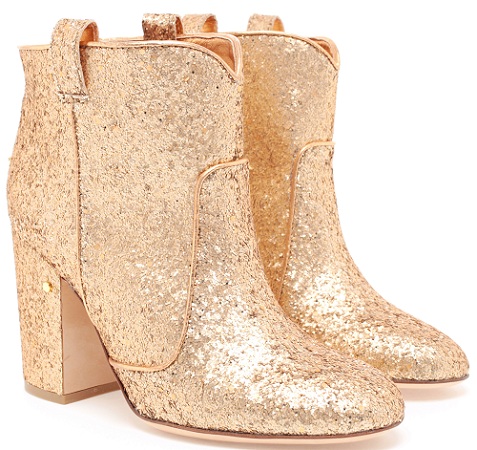 Some would declare these seriously statement-making boots a 'foot party', others may be a little more reserved about sporting a pair. But if the 'fun' element in footwear is missing, then what's the fun in wearing shoes, right. 
Potentially a modern take on Dorothy's glitter shoes from the original Oz movie, the glitter 'Pete' boots by lust-worthy shoe couturier, Laurence Dacade are made for gawking at.
Gold glitter demands a wardrobe warrior to tackle it; someone who is brazen enough to boot the boring (pardon the pun) and wear this eyeball hurting pair with the chutzpah of ADR, so we decided to weigh the pros and cons of owning this bootie-licious pair, below.
YAY
Statement investment: If you're looking to inject a little durable, real leather fun into your wardrobe, the 'Pete' boots may be just the thing you need to liven up that all-black ensemble.
Decent heel: A boot with the perfect heel is hard to come by: too high, you're screaming in pain; too low, you've just wished away the extra inches that could've given you Blake Lively legs (well, sort of). At 3.9 inches (to be really precise), the 'Pete' boot is a well-heeled (pardon the pun) middle ground.
Classic shoe shape: The ankle boot is having quite a moment, going perfectly with almost every item in our wardrobes, that shoe designers are festooning pairs in every which way. The 'Pete' boot combines a trend-frolicking look with a perennially stylish shoe shape. Perfect.
NAY
Colour: Gold isn't necessarily the easiest colour to pair with the contents of your wardrobe, especially if you're a colour and print enthusiast. All-black/grey/navy lovers, rejoice.
Price: The French shoe designer isn't particularly famed for financially friendly price tags, but you have to consider the cost-per-wear issue here, before diving in with the credit card. Although £565 isn't as bad as a pair of Louboutin or Tom Ford (gulp) boots, can you justify the price vs. boot outing case?
A one-wear-then-despair pair: Yep, it's our favourite term and you've heard it many times before! If it was love at first sight, followed by a sudden flash of fashion fatigue, could this be a potentially costly mistake disguised as a pair of buy-me-now boots? Go figure.
Laurence Dacade Pete Glitter Leather Ankle Boot, £565, available at Browns.