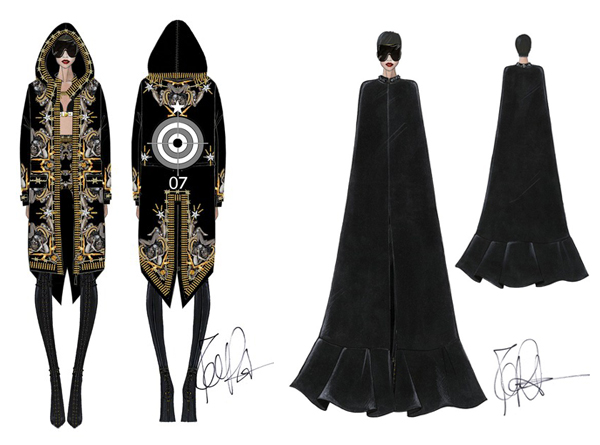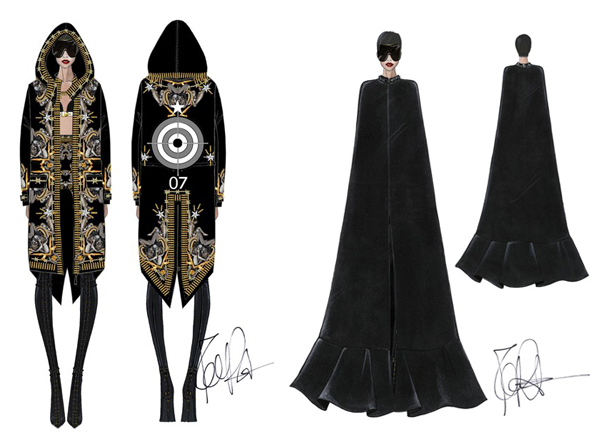 Rihanna's brand new Diamonds World Tour kicked off in Buffalo on Friday, and two of the stunning costumes she emerged in came courtesy of Riccardo Tisci at Givenchy. Well, he has proven himself as a master of stage costumes – just look at the outfit he create for Madonna at The Superbowl last year for proof!
"I enjoyed making these looks," the designer said. "Rihanna represents what young and amazing means today. She is punk and talented. She offers intelligence, energy and pure beauty. She is the face of her generation."
No arguments there! One of the pieces Riccardo Tisci created is a stunning printed parka with gold bullet motifs, embroidery and Swarovski Elements – reportedly inspired by his latest menswear show – while another piece – a floor-length black cape – is sure to bring drama to the show and juxtapose the overt sexiness quite nicely.
Riccardo Tisci has once again excelled in the stage costume department from what we can see in the sketches above! What do you guys think?
[WWD] [Images]