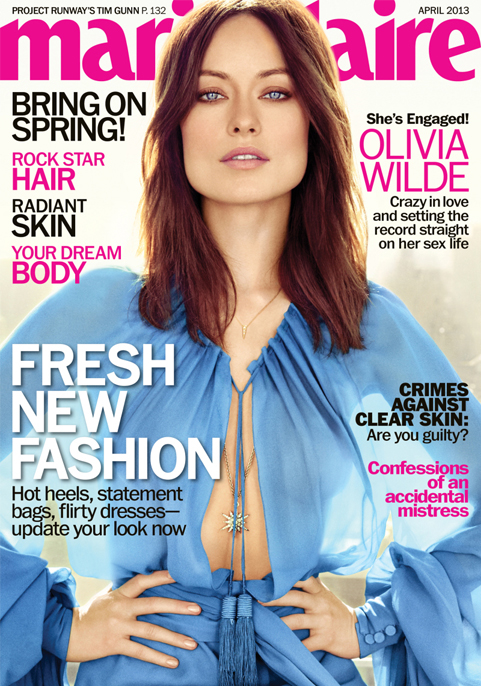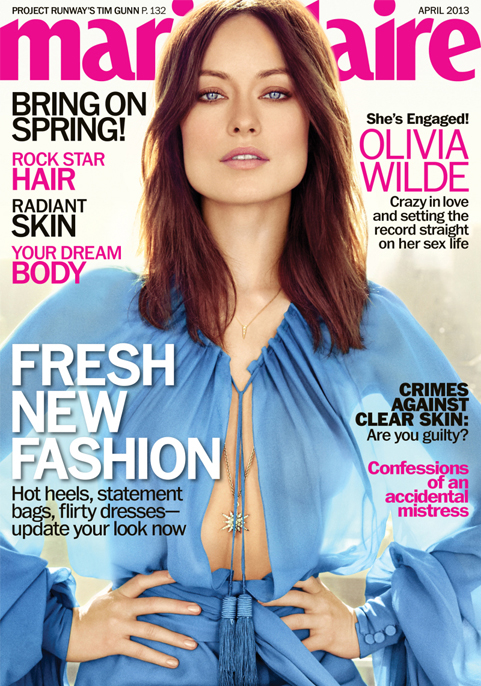 Ever since her stint as rock chick bad gal Alex on The OC all those years ago, we've had a not-so-secret girl crush on Olivia Wilde. Can you blame us? So, you can imagine that we were pretty chuffed when we learnt she would be fronting Marie Claire US's April issue. We were even more chuffed when we saw the cover and editorial images… chuffed and jealous, obviously.
The gorgeous actress opened up to the mag about getting divorced, falling in love with Saturday Night Live's hunky Jason Sudeikis, and planning their future together.
"We were both seeing people but were single," she recalled about getting together with Jason. "He seemed to really see me, see through the bullsh*t. He said very few words and couldn't keep eye contact. He was so handsome and he could dance.
"I thought, 'I'm not beautiful enough or his type.' I couldn't wait to sit down and hear him talk. On our first date, in New York City, we closed the restaurant down at 2 am! He didn't kiss me, and I was madly in love. I was overwhelmed."
Don't be so self-deprecating Olivia, you're both as hot as each other and your babies will be beautiful. And speaking of babies…
"We've discussed all our ideals and hopes. I can't wait for children. I'm open-minded about how many, but three, which I love, is like a little party."
Aww! You can read the rest of Olivia's interview and see more stunning pictures in the Marie Claire US April issue which is out March 19th.