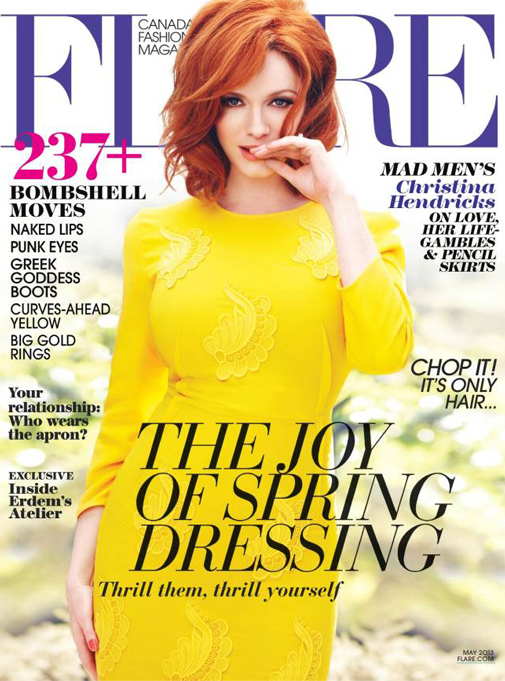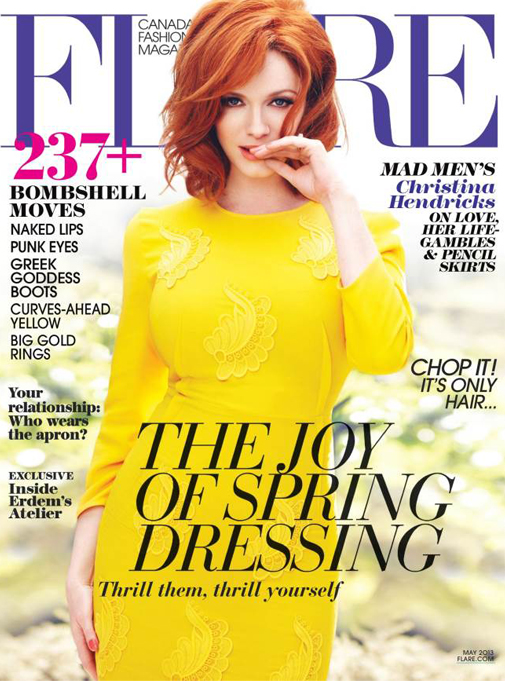 Yes, yes, and yes! Christina Hendricks is on the front of Flare's May issue, and it's exactly what we expect to see from a spring magazine! Christina is looking bold and beautiful as her flame red hair is juxtaposed with the brightness for the Stella McCartney dress she is wearing – kudos to photographer Max Abadian and stylist Lawren Sample.
In her interview, the Mad Men actress talks about her character Joan quite a bit, but the part we liked the most was where she revealed her other dream in life…
"I always wanted to be a florist," she said. "In fact after the first season of Mad Men, I worked at a florist. We had to wait a year to shoot because Matthew Weiner was finishing The Sopranos. And all these actors that I'd worked with would come in and say, 'Oh… Everything OK' And I said 'No! I've just always wanted to work at a florist.' And they would say, 'OK, can you help me pick out a bouquet?' And I'd be like, 'I'll make you one!' I've always been pretty good at it.
"I love a peony, I love a delphinium, I like garden-style flowers, less formal, I like something with a berry. An English-garden kind of situation."
Bless her – we think she'd be pretty good at it too! Click here to head to the Flare website and read more from Christina's interview and see more gorgeous pics.