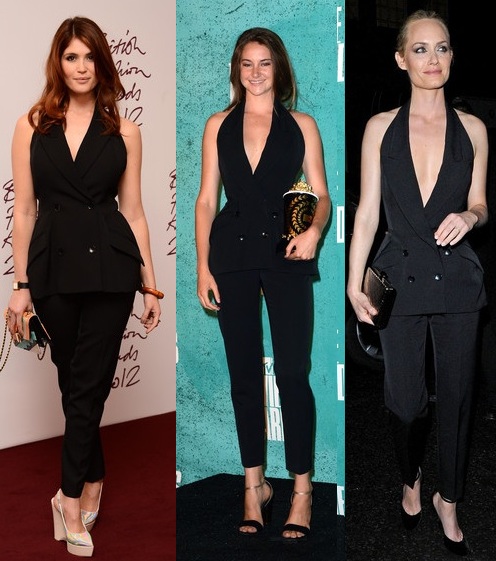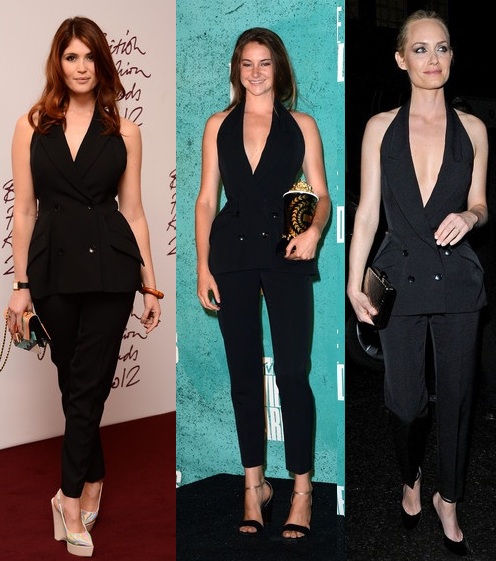 Judging by the popularity of a particular Stella McCartney ensemble, it's a triple fash-off this week! Spotted in the same form-fitting Stella McCartney tuxedo jumpsuit, actresses Gemma Arterton, Shailene Woodley and model Amber Valletta have firmly fallen on our style radar.
Cast your minds way back to February 2012, when Stella McCartney threw THAT lavish party during London Fashion Week (the one that included crazy, models-dancing-on-tables antics, and a very cosy looking Rihanna and Kate Moss). Attendee Amber Valletta was the first to slip into the tux jumpsuit for the event, oozing every bit the model glamour she's carved a successful career out of. A simple black clutch and ankle strap heels accessorised the look, whilst slicked back hair and strong eyes completed the look.
Shailene Woodley gave the tux jumpsuit its next outing at the 2012 MTV Movie Awards, last June. Styled with Stella McCartney sandals (natch), Shailene opted for a messy fishtail plait and went sans accessories.
And, finally in the fash-off line-up, Brit beauty Gemma Arterton wore the tux jumpsuit to the 2012 British Fashion Awards back in November. Styled with wedges by the same designer, a handheld cross-body bag and an orange bracelet, Gemma sported softly tousled waves and neutral makeup.
But whose look steals the fash-off champion title? We're rooting for Gemma on this one for one simple reason: she oozes oodles of confidence, whereas Amber and Shailene – who look equally as amazing – seem a little vanilla in comparison. The alternative thought to styling and soft curls bring a feminine edge to the near-androgynous style of the tux jumpsuit, and Gemma gets the balance just right!
Whose look wins for you?