Last Updated on 19th October 2013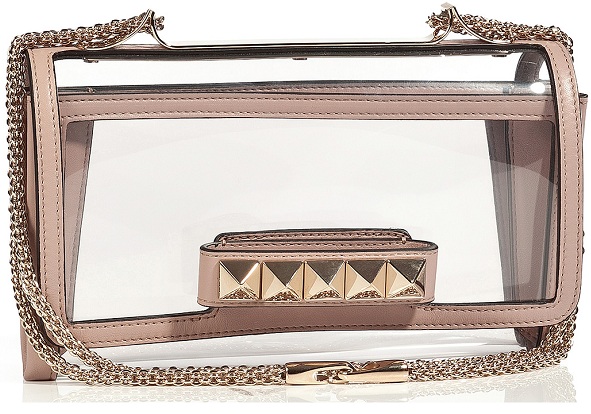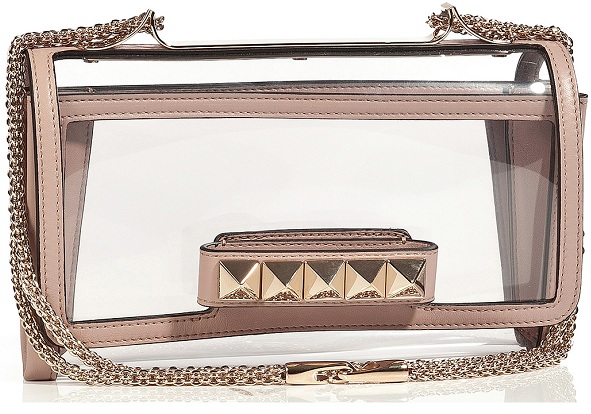 Deep from the deliciously luxe depths of atelier Valentino, the famed Rockstud is back in a more updated version for spring.
Produced in a new season favourite PVC and leather mix, the Rockstud Shoulder Bag dips into the fashion world's latest affection for all things transparent; from Christian Louboutin's A-list favourite PVC cap-toe pumps to Charlotte Olympia's covetable Perspex clutches, chic flash-fleshing is the trend du jour!
So when we caught sight of the Rockstud Shoulder Bag in all its nude, tough-luxe, studded glory, and after already haven fallen crazily in love with this leather tote and divine pumps from the same collection, we couldn't help but size it up for purchasing potential.
Valentino wares don't come in as the most cost-effective purchases in your wardrobe, but it's a luxe affair, and one that's sure to bash the bank balance. So, to make the decision easier, we've put the Rockstud Shoulder Bag under this week's Yay or Nay spotlight, and here are reasons for and against indulging in this Italian stallion:
YAY
2-in-1 Bag: The removable chain link shoulder strap and Rockstud-adorned front handle instantly transforms this bag into the perfect evening clutch, and we're suckers for a 2-for-1 fashion situation!
Flattering colourway: The soft nude powder leather trim, accented by the gold-tone hardware is sure to sit right with just about every colour in your wardrobe; it's a chic intervention.
Perfect mix of feminine and fierce: Mastering the tough-sweet mix, this bag is ideal for fashion lovers preferring the rebellious side of style.
NAY
Price: An eye-watering £ 1,130. Yes, we know that painful, defeated-by-the-overused-overdraft look on your face.
Transparent: Well, we know the PVC trend is all the rage right now, but do you really want the contents of your bag in full view of the general pubic? Unless your iPhone has a retractable Chanel lipstick, tampon holder and secret mirror (no really, do tell us if it does), this see-through bag won't really help to conceal all that you don't want to share with the entire world!
Size: Costing considerably more than the larger leather Rockstud totes, we're not entirely convinced with the bag size to stuffing-it-full ratio. OK, so it's a delicate shoulder bag-cum-clutch, but a girl needs a roomy bag, and this one doesn't really fit the bill (pardon the pun).
Will you be clicking home the Rockstud Shoulder Bag?
Valentino PVC Rockstud Shoulder Bag, £1,130, available at Stylebop