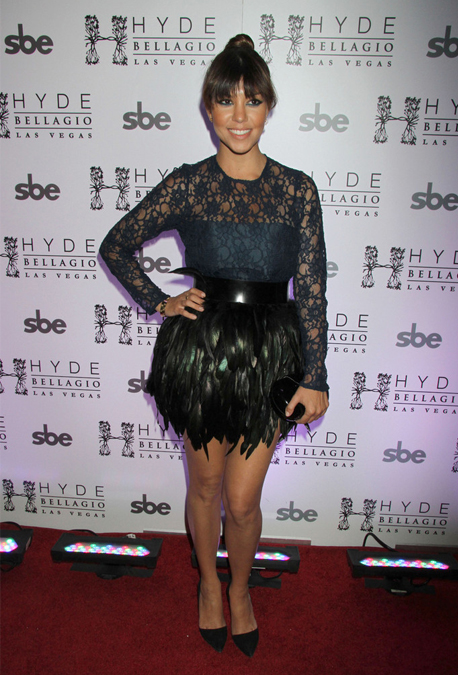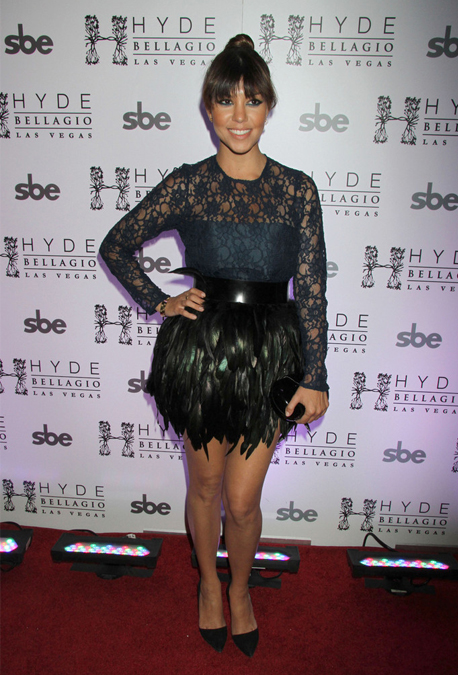 We've been focusing on her younger sister Kim these past few months (mainly because we are monitoring her maternity style with hawk-eyes) but were mixing things up this Tuesday afternoon by giving some overdue attention to the gorgeous Kourtney Kardashian!
Ever the style maven, Kourtney displayed a variety of trendy looks all in one go as she attended boyfriend Scott's 30th birthday bash in Las Vegas. She embraced the lace trend with a long-sleeved lace blue top, which she tucked into a very daring ruffled peacock skirt.
She completed her look by working her sleek brunette locks into an effortless top knot (another popular hairstyle among the fashion folk), a generous layer of blusher on her cheeks, and black pointy pumps.
Lace detailing, peacock feathers, top knots… they're all great on their own, but do they work when they're combined? On paper we'd say no, but we think Kourtney just about manages to pull it off on this occasion. A petite frame, great pins and Kardashian genes all worked in her favour!