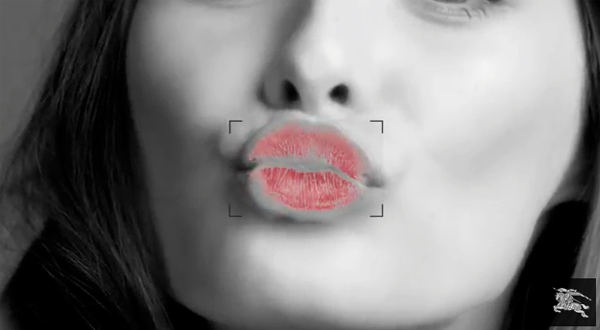 Burberry and evolving technology seem to go hand in hand, and the British brand's latest collaboration with Google proves it.
Burberry and Google have teamed up for "Burberry Kisses" as part of Google's Art, Copy & Code initiative which aims to "humanise" technology. And what's more "human" than puckering up for a cheeky kiss? Burberry Kisses lets users send kisses all over the world by transforming real life kisses using webcams or mobile phones.
"Burberry Kisses began with the idea of giving technology a bit of heart and soul, and using it to unite the Burberry family across the world – by telling a story that makes the digital personal," said Burberry Chief Creative Officer Christopher Bailey
"We're constantly thinking about how we translate the emotion of what we create and experience in the real world into the digital space, whether that's capturing the energy and excitement of a live gig, the hum and buzz of anticipation before a runway show, or just the feeling you get when you pull on your trench coat on a rainy morning.
If you want a piece of the kissing action, head to kisses.burberry.com, plant a kiss on your phone screen (or use your webcam) and send it to its lucky recipient. You even have the option to give the kiss a sexy lipstick shade from Burberry's latest range of lippies – how cool is that? And if you're feeling a bit nosey, you can check out the interactive map to track the rest of the kisses that are being sent all over the world. What will they think of next, eh?