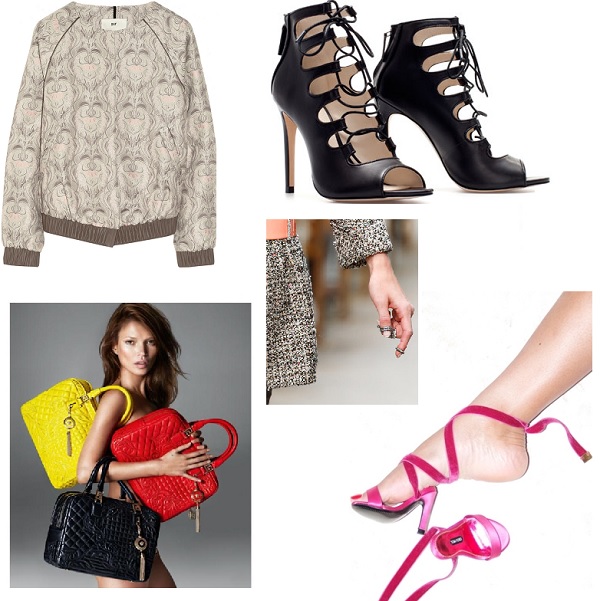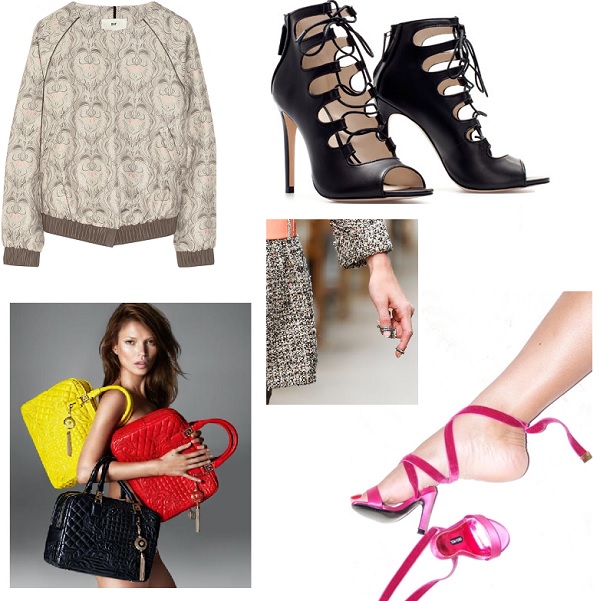 Up
The bomber jacket: The hit summer cover-up, we're digging the bomber jacket for its endless styling opportunities. Continuing fashion's love affair with the sport luxe trend, we're wearing ours with skinny jeans and a luxe tee by day, and statement earring and a sexy pencil skirt by night.
Knuckle-nail rings: From Balenciaga's lusted-after gold versions to pocket-pleasing high-street alternatives on the high street, knuckle rings have evolved into the next best thing: knuckle-nail rings, as seen on the Chanel Fall Couture 2013 runway. Yeah, couture on your nails is a thing, according to Kaiser Karl.
Expensive baby shoes: With a 'female hustler' and the 'king of hip hop' for parents, you're expected to have a more than average upbringing. Her Majesty, Blue Ivy Carter, has her own pair of TOM FORD heels. Yes, TOM FORD. Downsized to tot proportions, and modelled by her bootylicious mum. In other news, the world's first billionaire couple reportedly splashed out a whopping (modest by Jay-B standards) $7,500 on presents for Baby Kimye, including a pair of Christian Dior booties.
Moss mania: Although she's been everywhere since being discovered at the tender age of 14, Kate Moss continues to rule everything, everywhere. From taking over the Stuart Weitzman and Versace AW13 campaigns to teaming up with Carphone Warehouse on a new fashion-tech accessories line and going under the hammer (sort of) at Christie's.
Budget Alaia's (well, kind of): We've been drooling over the real deal, and promptly heading to Zara to snap up the pocket-friendly version! We're in love with complex, lace up sandals that look like a lot of hard work to slip into, but once you've got them on, there's no coming off.
Down
Over-the-top underdressing: Oh, Rihanna. Bad, bad Rihanna. Rocking up to Chanel Couture (!) in nothing more than a partially-buttoned duster cardigan and heels, whilst narrowly avoided spilling out of of your outfit in the absence of your smalls, we're not impressed. We love her cliff-hanger approach to fashion (the girl always has us guessing), but Chanel's most high profile fashion show of the season is not a place to display, so to speak. We wonder if Anna W raised a perfectly groomed eyebrow at the star's outré ensemble.
Slim(ane) men: The skinny men on the Saint Laurent menswear spring 2014 runway made for some strong conversation recently. It's usually female models at the receiving end of sharp criticism for appearing deathly thin, but the focus here was put on Hedi's preference for a rock 'n' roll silhouette. We think it's time to sit up and take notice of skinny male models in the same way we do for the fairer sex.
Insta-Vine video wars: Fashion is one thing: fast and it gets bored pretty quickly. With the launch of Instagram videos (it was only a matter of time), Vine seems to have, in the opinion of the fash pack, taken a back seat. OK, we know Instagram gives you more freedom to beautify pictures and Vine doesn't really afford that luxury, but when we read a recent tweet criticising Atelier Versace's official Instagram-mer (yes, really) for taking blurry pictures of Naomi Campbell on the runway, we knew things had come to a head. With links to Vine videos on social networks dropping by nearly half a million the day after it's rival app's launch on June 20, here's what we think: guys, relax. Take a step back and enjoy and absorb the fashion, then Insta/Vine your heart out.
Jennifer Lawrence's culotte crisis: She's one of our favourite Hollywood darlings, but Jen Lawrence didn't really do it for us in that crop top-culotte ensemble she sported to the Dior Couture show in Paris. Although she's just bagged the coveted American Vogue September cover, we're not convinced by her unusually less-than-perfect sartorial choice. Culottes, unfortunately, are a no-no.
Dior's anti-boob campaign: Hey, Dior! What's wrong with a generous cleavage? Earlier this week, 22-year-old runway superstar, Jourdan Dunn tweeted: "Ahahahahahaha I just for cancelled from Dior because of my boobs! I? fashion #Couture", after the exclusive fashion house dropped her from the runway line-up for the Couture show. We're all too aware of the fashion industry's unrealistic approach to sample sizes, particularly in the make-believe world of Couture, but it's disturbing when someone as in-demand as Jourdan gets the cold shoulder. Fear not, she's got a bulging diary to boot, anyway.