Last Updated on 24th July 2013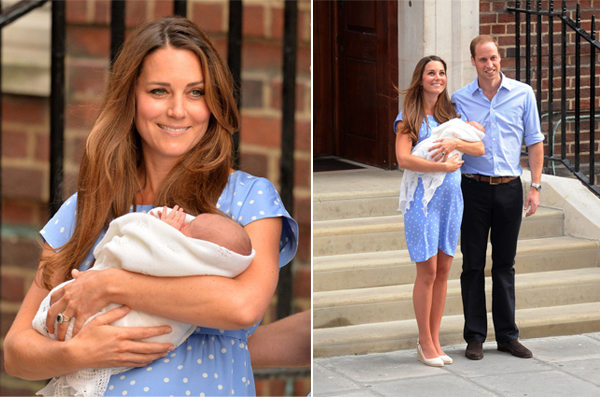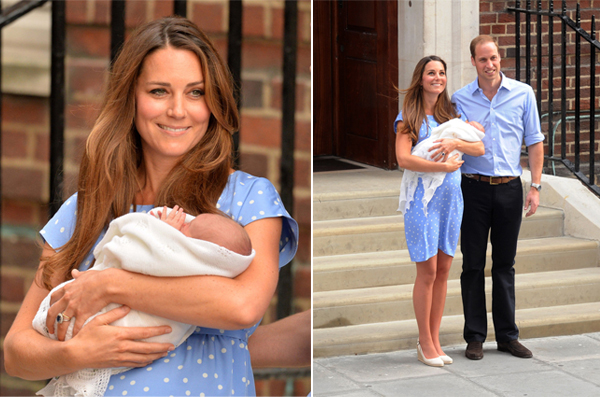 They're here – the pictures we've all been waiting for as soon as it was announced that Kate Middleton was pregnant. Maybe even as soon as she and Prince William announced their engagement if we're being completely honest. We are of course talking about the very first pictures of the Royal Baby, the Prince of Cambridge.
If you follow us on Twitter you might remember that we showed you a few sneaky blurry pictures excitedly taken from our television screen, but now it's time for some clear ones as taken by the lucky and dutiful photographers waiting patiently outside the Lindo Wing at St Mary's Hospital yesterday. Talk about a memorable day at work!
Holding her newborn in her arms, Kate Middleton introduced her son to the world before handing him over to hubby Prince William who secured him in his car seat before driving home. And in case you're wondering, Kate was wearing a beautiful blue polka dot dress by none other than Jenny Packham. Who else? (Princess Diana also wore a polka dot dress when Prince William was born… take from that what you will.)
A statement released on their official website suggests that well-wishers wanting to send gifts should donate to local charities instead.
Congratulations to the Duke and Duchess of Cambridge on their new arrival.