Before Pippa Middleton and her now famous derriere were thrust into the spotlight at the wedding of Prince William and Kate in 2011, she was already a regular face in high society circles. With such a full telephone book, Pippa must know every wedding site directory in the country as she has attended a fair few weddings over the years. You probably will have heard all about Kate this year with the news of the Royal baby, so here we center on Pippa and her top wedding guest looks.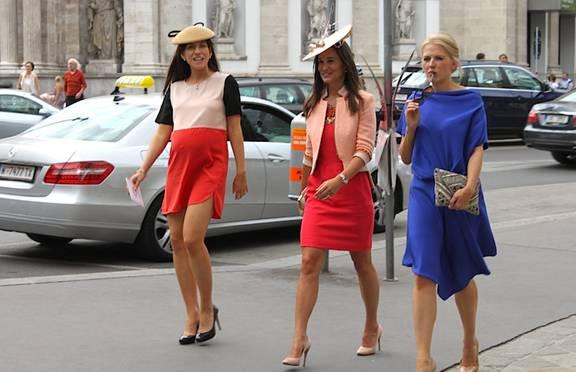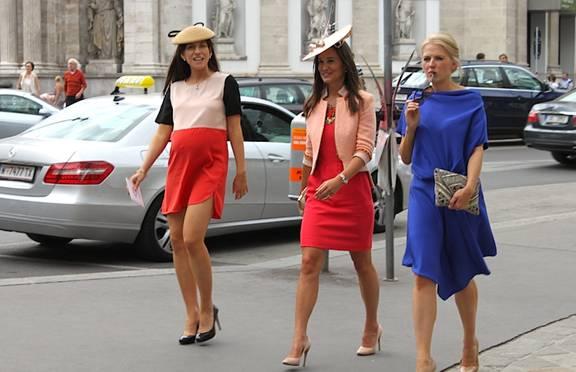 Caroline Seiber's wedding
Pippa's latest wedding guest look came in July of this year at the wedding of friend Caroline Seiber in the stunning city of Vienna. Pippa braved the heat with bare legs and a lightweight jacket with one of her signature jaunty fascinators. Pippa wore a crepe tailored dress in bright coral by Matthew Williamson with a pair of dusky pink heels. A simple jewelled neckline and a light watch finished off the look perfectly. Opt for bright colour block like Pippa and her two companions for simple chic. A pair of nude heels is great for a petite frame as they help to give the illusion of longer legs!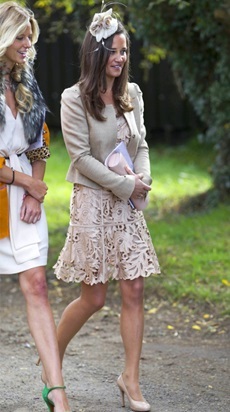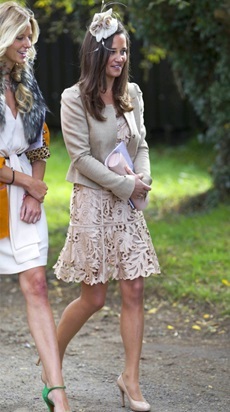 Pretty pastels
Back in 2012, Pippa attended another high society do in Oxfordshire, sporting this pretty pastel outfit with laser cut detailing in her light pink frock. Again, we saw Pippa wear a delicate fascinator and a pair of nude heels with a light weight jacket. Pippa demonstrates that you shouldn't neglect your own style whatever the occasion.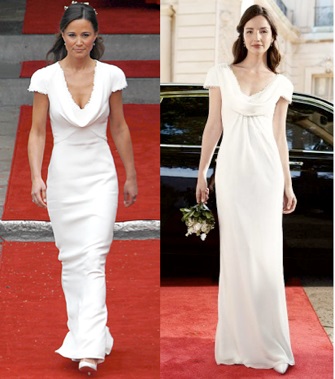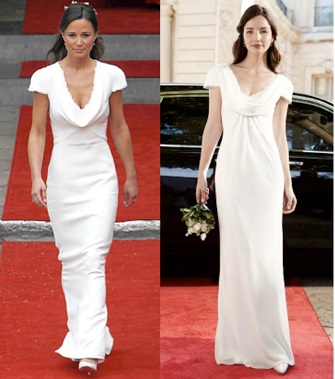 That dress
The Alexander McQueen dress Pippa wore to Kate and William's wedding in 2011 has since been coined 'the Pippa dress' and spawned many replicas after the event like this one to the right. Simple and elegant, the dress hugged her frame perfectly and the little capped sleeves helped to balance out her broad shoulders with Pippa's tiny waist. A pair of pearl earrings and a vintage-style hairpiece was enough to add a little sparkle.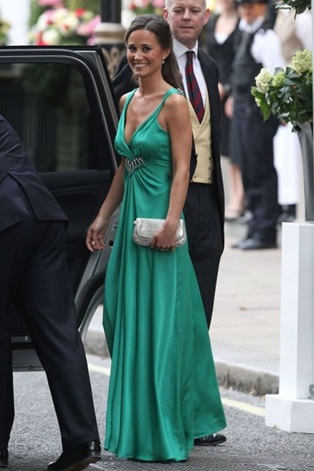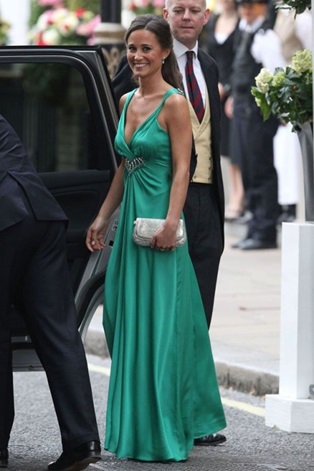 The reception dress
After the wedding, Kate and Pippa then changed into dress number two to carry on the day more comfortably. While Kate opted for ceremonial white, Pippa chose a vibrant jewel coloured dress designed by Alice Temperley. The emerald dress was a great shape for Pippa's waif like figure with a plunging neckline to add a curve to her figure. An ornate embellishment to the front of the dress provided all the glitz and glamour so that only an elegant clutch and small drop earrings was needed in the accessories department.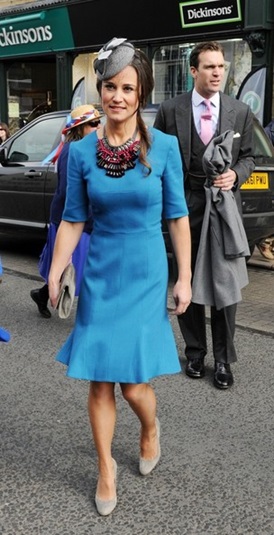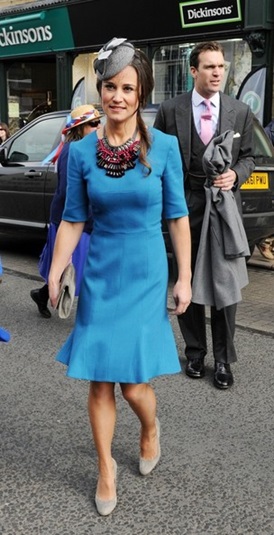 Cool in blue
Another great jewel-coloured look from Pippa. In April 2013, Pippa was spotted at yet another aristocratic do in bright blue for the wedding of pals Michael Marsham and Lucy Beaumont. Although Pippa wore a staple fascinator as usual, this look was noticeably modern and somewhat casual which was both refreshing and current. An oversized beaded necklace was right on-trend with this year's spring oversized jewellery and her hair was kept natural and fuss-free.