London Fashion Week may be over for another season, leaving us dreaming about next summer, but it's onto Milan and Paris! So, to keep the London style spirit alive a little bit longer, here are our highlights from the final day of fashion fun:
Thomas Tait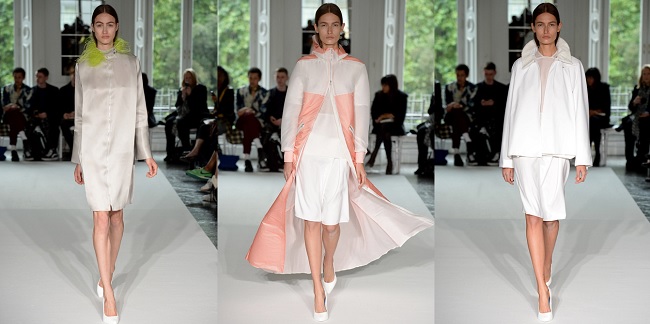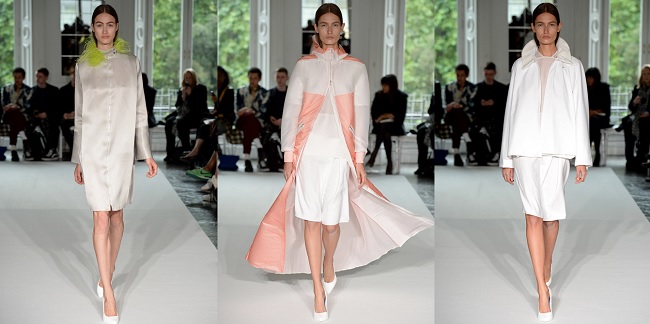 Practicality is never lost on some in the fashion world, and CSM-trained designer Thomas Tait is one who never leaves behind is original vision. Although the colours on the runway for next season have served as palate cleansers, Tait's angelic whites were too luminous to miss. Clean, fluid dresses, tank tops boxy jackets and were crossed with carefully positioned embellishments in the form of vividly coloured panels and wisps of feathers, but the originality of his hard working aesthetic, those any- weather-tackling, utilitarian jackets was not lost. Tait fans were surely not disappointed.
Ong-Oaj Paraim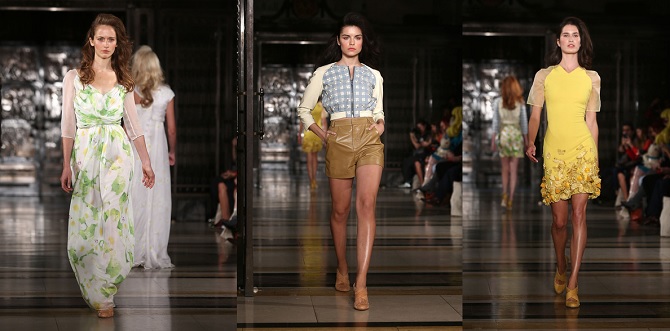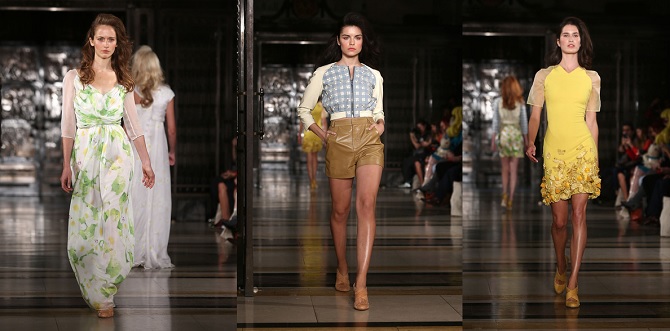 Another one to watch from budding pool of emerging fashion talent this season, we loved Ong-Oaj Pairam's debut offerings – inspired by Gertie, from Stephen Spielberg's blockbuster,  E.T. – at Fashion Scout. Vague imprints of yolk-centred flowers were sprayed across billowing maxi dresses, while the flowers came to life in 3D form on a patent white skirt. A patent-sleeved cropped jacket with metallic checker board body was paired with leather shorts in a foamy cappuccino hue, and hair was coiffed to the tune of tea dress swishing, fashion-loving, Fifties housewife.
Cinched waists were high on the agenda, with plenty of belting and body contouring dresses to boots, and a broken down Chinese calligraphic-style print in red and blue, neatly ruled out on a sheer collared shirt and high-waisted shorts. A fantastic introduction to his vision and style ability, this ex-Proenza Schouler assistant is sure to stay on our runway radar.
Simone Rocha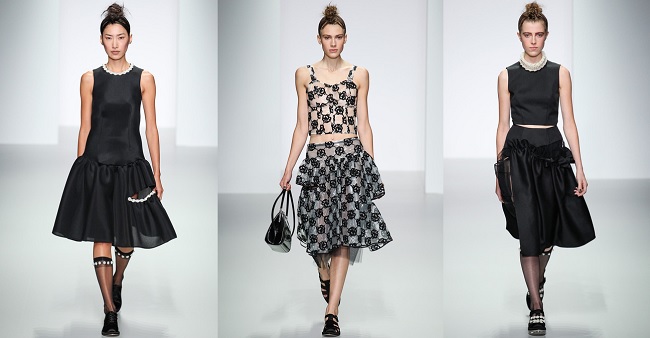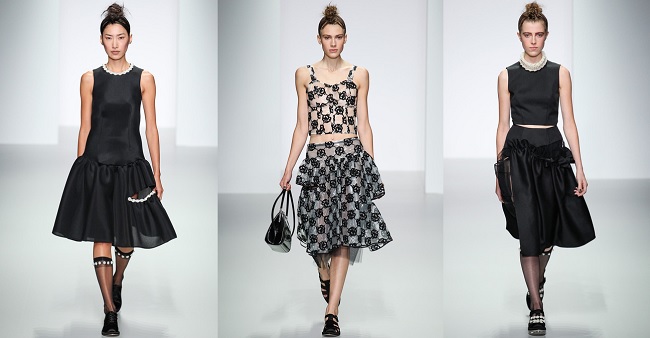 She's fast climbed the ranks to become one of the most talked about fashion stars in the past three seasons, but her fourth took a detour from the pastel prettiness and Perspex goodness we've come to associate her with. Black is an unsuspecting favourite for next spring, and with Rocha's artful ways at work, it couldn't possibly be any more desirable.
Strips of ruffled fabric hung low on midi skirts, like purposefully misplaced belts, and pearls took centre stage; adorning everything from collars to the tops of pop socks. Her cutesy crochet of seasons past was given a sheeny goth-over, as if glazed in a tarry varnish, and ballet flats were the order of the day, heralding the heelless girl as next season's leading heroine.
Emilio de la Morena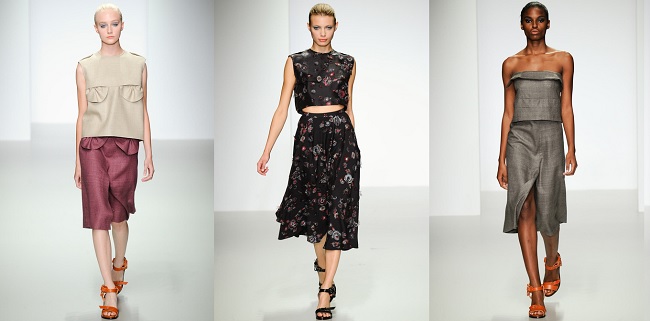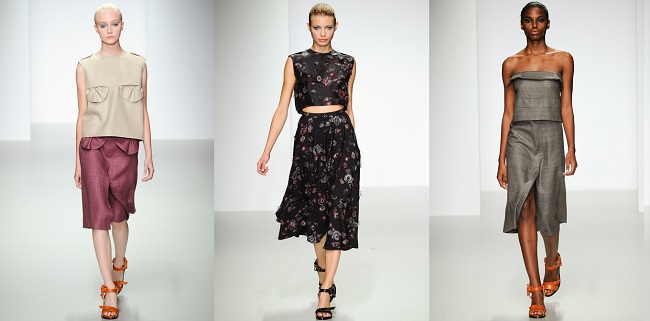 Starting off as a haven of cool, sandy-hued looks; Emilio de la Morena's spring 2014 offerings quickly descended into a tunnel of serious, flowery blacks. Burnt orange ankle strap sandals beautifully accented a deconstructed spaghetti top and trouser ensemble in soft grey, while the opening look – a boxy tank with pleated fan pockets paired with a concealed-slit skirt in purple – set the tone for an inside-out collection; one that would convey the basics of design in its most relaxed form.
Perfect for the a- dress-with-detail loving city dweller, de la Morena's new season offerings will have friends getting up, close and personal about your clothes. Our favourite look: the crop top and midi skirt in black, splashed with an eerie opium plant print.